By:
Editorials
|
Published: April 22, 2017 1:24:39 am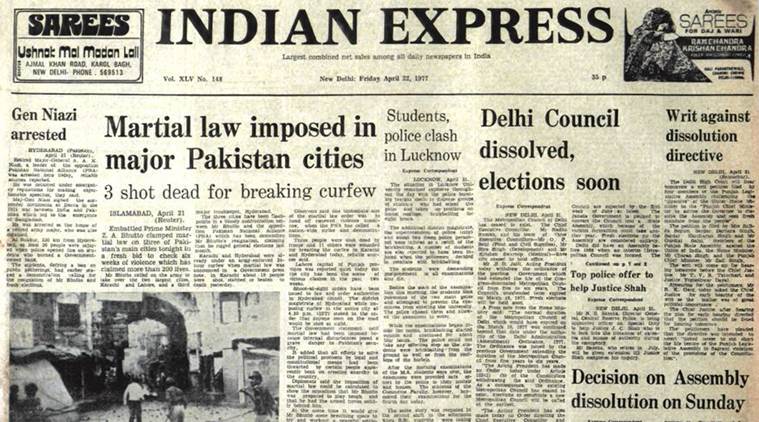 Pak's Martial Law
Embattled Prime Minister Z.A. Bhutto imposed martial law on three of Pakistan's main cities in a bid to check six weeks of violence which has claimed more than 200 lives. Bhutto called on the army to take over Karachi, Lahore and Hyderabad. The three cities have been flashpoints in a bloody confrontation between Bhutto and the opposition, the Pakistan National Alliance, which has demanded Bhutto's resignation, claiming that he rigged general elections in March.
Niazi Arrested
Retired Major-General A.K. Niazi, a leader of the Pakistan National Alliance, was arrested. Niazi, who signed the surrender documents at Dacca in the 1971 war between India and Pakistan, was detained under emergency regulations for making objectionable speeches.
Bangladesh President
Major General Ziaur Rahman, Chief of Army Staff and Chief Martial Law Administrator, was sworn in President of Bangladesh, following the resignation of Abu Sadat Mohammad Sayem on health grounds.
Phizo Interview
Naga leader A.Z. Phizo told The Indian Express London correspondent that he was "quite keen" on bringing about peace in Nagaland. Phizo, father of the Naga insurgency, lives in exile in London. He felt that the time was now ripe to settle disputes between the two sides. He said he had sent a letter also signed by his close aides to Indira Gandhi, asking for a meeting anywhere, any time to discuss peace on February 21. "I have not received a reply, directly or indirectly," he said. "I am prepared to meet Morarji Desai, for whom I have great regard and whom I consider a man of peace. He had fought for India's Independence. He knows what freedom means… I am equally ready to meet Jayaprakash Narayan. He was involved in the Nagaland problem," he said.
For all the latest Opinion News, download Indian Express App