By:
Editorial
|
Published: April 19, 2017 2:00:57 am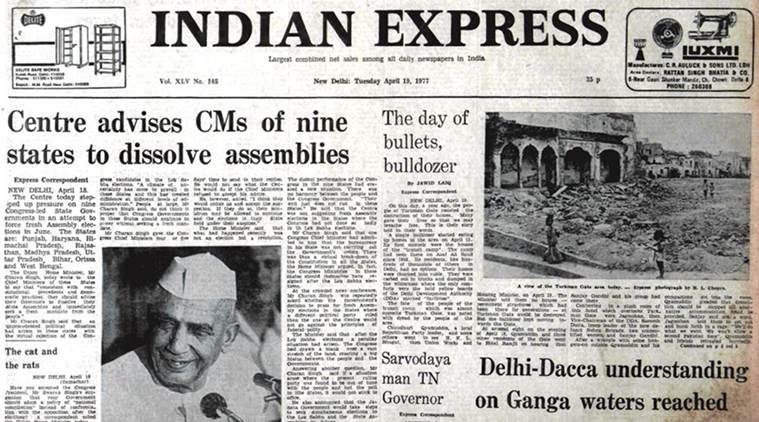 Quit, Cong CMs Told
The Centre stepped up pressure on nine Congress-led state governments in an attempt to force fresh assembly elections. The states are: Punjab, Haryana, Himachal Pradesh, Rajasthan, Madhya Pradesh, Uttar Pradesh, Bihar, Orissa and West Bengal. Home Minister Charan Singh wrote to the CMs of these states to say that "consistent with constitutional precedents and democratic practices, they should advise their governors to dissolve their state assemblies and immediately seek a fresh mandate". He said an unprecedented political situation had arisen with virtual rejection of the Congress candidates in the Lok Sabha elections.
Congress Rejects Demand
Denouncing the Centre's demand as "blatantly partisan", the Leader of Opposition Y.B. Chavan indicated that the Congress has told its chief ministers not to resign. The Congress Parliamentary Board will meet to consider the situation created by Home Minister Charan Singh's statement that Congress-ruled states should seek fresh mandate.
Rajan Case
The Kerala High Court may hear the leave to appeal application filed in the Rajan case on behalf of the Chief Minister K. Karunakaran, Home Secretary Narayanaswamy, and Inspector-General of Police V.N. Rajan. The application filed in the HC seeks leave to appeal before the Supreme Court against the order passed by the division bench directing the production of Rajan before the court.
The state advocate general argued that even if it was assumed that the petitioner's son was taken into illegal detention on March 1 (1976), the writ would not issue to the respondents unless the respondents are proved to have custody or control over him and that he is under illegal detention at the time of the issue of the writ. The court could not direct the production of the body or release of the person because at some prior stage there was no valid cause for detention, he submitted.
For all the latest Opinion News, download Indian Express App