Over nine years of good governance, exemplary law and order and record growth, Nitish Kumar pulled Bihar back from the brink. But no one's sending him a thank-you card — the stronger, more ambitious Bihar he helped build is standing up, asking for more.
Bihar is the cradle of India's post-1975 politics. The JP movement that provoked the Emergency and started the process of the Congress party's decline, which now seems rather more dramatic than ever imagined, began here. Everybody not only knows politics here but also loves it. In a state where nothing worked for six decades and where per capita incomes are less than a fourth of that of India's richest states, nothing catches people's imagination more than politics. Or "paaltiks", as a pucca Bihari would say. Like Lalu Prasad. Quoted verbatim: "Bihar is not like the other states. Bihari peepulz do not accept anything silently. They are very paaltikal. They have a view on everything and all matters."
You need someone with much greater scholarship than I to explain this. Or maybe even a soil scientist. There must be something in this soil on the two banks of the Ganga and spread across its many and usually less benign tributaries, which helps politics and statecraft thrive. With Buddha and Mahavira, the Gupta and Maurya dynasties, Chanakya and the empires of Magadh, Vaishali, the ancient metro of Patliputra and the University of Nalanda, Bihar punches way above its weight nationally. It is also as much the home of heartland politics as the primary pathshala of the political reporter.
No surprise, therefore, that this is where this metaphor, Writings on the Wall, under which these dispatches are strung together, emerged in the course of one of our group's — the self-styled Limousine Liberals' — earlier travels. The idea that, if you wished to know what was going on in a part of India, what was changing, what wasn't, how, why and what next, you had to read what was written on the walls. You just have to keep a sharp eye, an open mind and your usual reporter's curiosity. Because sometimes, it is the absence of any writings, even the walls, that tells you a story, as it did in 2003 — a story of beleaguered hopelessness, an economy of pure subsistence and tiny money order remittances, caste, grievance, indeed grievances of the past. Then, the first writings appeared, though not on the walls, as most of the countryside was still thatched in 2004. The first writings appeared on tiny boards nailed to trees selling English-medium private schooling. This was the cue for a new aspirational surge. Now you know how we sniffed it so early.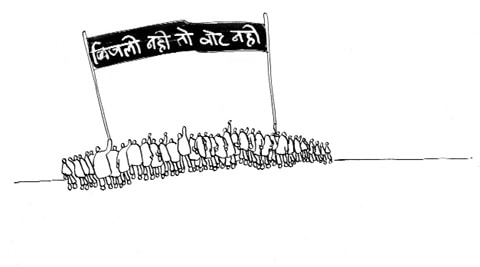 Vindication came next year as Lalu's do-nothing stranglehold on electoral arithmetic was demolished by Nitish Kumar on the (then) unusual exhortation that elections were no longer a time to season your lathis with oil (Lalu's favourite war cry), but to fill your pens with ink. By the time Nitish was seeking his second mandate in 2010, we saw something else even more striking on walls that had sprung up sort of dramatically in those five years of brilliant governance, like new vegetation sprouting after a shower on land that had been under a drought for years. These walls were now selling branded underwear to Biharis ('A Mandate for Nitish Hope Kumar', Writings on the Wall, IE, November 22, 2010, iexp.in/kZT83924). This was evidence of upward mobility and aspiration, of a breakout from subsistence economy, and a clear pointer to Nitish's second victory, the biggest-ever in the history of Indian elections, unmatched by even Nehru in 1952, when the opposition did not exist.
Then why is the same Nitish struggling now, as the state approaches the final two rounds of elections? And why is Lalu, whom we had written off and whose political future now seemed confined to jail, smiling and feeling revived politically? Can you read it anywhere, in the writings on the wall? You sure can, but you may need to also read between the lines.
Admitted that across the old bridge on the Ganga, past the domes of the historic Patna Sahib Gurdwara on the right, you enter one of the 10 more developed (or, more accurately, less under-developed) regions of rural Bihar. That is because, between the constituencies of Hajipur (Ram Vilas Paswan) and Chhapra (Rabri Devi, Lalu and Rajiv Pratap Rudy of the BJP) lies a most prized, and therefore pampered, political battleground. This is the land of ancient Vaishali, and many stupas and ruins still remain. But this is still very, very poor rural Bihar. And you see how poor at Suhag General Store, an 8×12 hole-in-the-wall that sells bangles and trinkets on a board outside with a very well-done portrait of Priyanka Chopra as a bride.
The owner, Mr Saadh, stands behind his little counter stripped to his baniyan, sweating in the 45-degree afternoon heat, and his customers, three women in crumpled sarees — all red BPL cardholders as it turns out — are buying hair oil and bangles, which fill most of the shelves. But in one corner, you will see something you wouldn't have expected in a countryside where the vast majority of people qualify to be below the poverty line. Two stacks of Stayfree sanitary pads. And next to that, merchandise even more surprising. Three brands of Davy, Huggies and Pampers diapers in tiny, stone-poor Manua Ghat (see picture taken on my phone on The Indian Express website and Facebook page). You even see diapers in smaller, easier to buy packets hanging along with strings of shampoo and oil sachets. This is change. From nothing to decent schooling to branded underwear to Pampers for your little ones, let us say, stealing an old cigarette advertising line and using it so utterly out of context, the rural Biharis have come a long way, baby.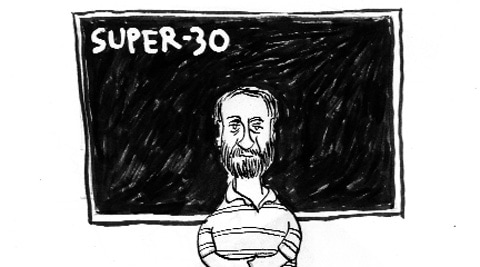 That is change. And if Nitish is now looking at what can only be described as a downturn in electoral fortunes as dramatic as his sweep in 2010, could it be because he failed to appreciate this? Nearly nine years of great governance, exemplary law and order, among the highest rates of economic growth in India and a most dramatic improvement in social indicators, however low the base may have been, has changed voter attitudes in Bihar more radically than he imagined when he broke off from the BJP, driven by hubris that he couldn't escape in the halo of 2010 and imprisoned mostly by bureaucratic sycophants who converged around him in its wake. A better fed, less insecure population is tougher to satiate. It wants more. It is less bound by ideology because more that is material, and now matters, is within its reach, a possibility. The more aspirational — or, okay, materialistic — a people, the less ideological they become.
They are not about to reward him for breaking away from the BJP on secular ideology, particularly when the choice is for the Centre, not the state, between Narendra Modi and who-knows-who, not between Nitish and Modi or Lalu. Village after village, huddle after huddle, Biharis, whether Dalits, upper castes, Yadavs, other OBCs — funny how you do not feel embarrassed asking people their caste as you strike up a conversation, it is the done thing — say only one thing: this is the bada (big) election. We are choosing a PM, not CM. This is not about Nitish. It is for or against Modi. So if you are a Muslim, you vote against Modi. Most others, barring Yadavs who never left Lalu, are willing to give Modi a chance. The curious thing, however, is how the same Muslims, for whose sake and to save whom from Modi Nitish broke with the BJP, are now returning to Lalu instead. Why no thank-you cards for Nitish?
Lalu will explain Nitish's predicament to you as only he can. What is Nitish telling you, he asks me.
"Lalu ji, woh kehte hain ki Modi ki koi hawa nahin chal rahi, kewal publicity ka blower chal raha hai. Aur unki bahut seatein aayengi kyonki Mussalman sab unke paas hain, BJP chhodne ke liye," I say somewhat simplistically and provocatively. And sure enough, Lalu takes the bait.
"Dekhiye, Shekhar ji, hamaare Hindu dharam mein jab gotra milta hai, tabhi shaadi hoti hai. Aur paaltiks mein kya gotra hai aaj, kewal secular aur communal," he explains and so, more than 15 years ago, their gotras matched and Nitish as bride and Advani ji as groom got married.
"Vivah hua, phir beta-beti, pota-poti, naata-naati (after marriage came children and grandchildren). Aur ab keh rahe ho ke gotra nahin mila, toh kaun maanega. Janta bahut samajhdar hai." Lalu explains Nitish's miscalculation better than any prime-time pundit could.
Every opinion poll now tells you that the Muslims in Bihar have moved en masse to Lalu. In fact, the latest NDTV poll tells us that nearly 70 per cent Muslims now say that they will vote for the RJD-Congress combine. This is some setback for Nitish who, just the other day, was being hailed by Bihar's Muslims as sher ka bachcha ('When lonely Lalu misses "gentleman" Sonia, and a Muslim calls Nitish "sher ka bachcha"', Writings on the Wall, IE, November 23, 2010, iexp.in/oFu83921) for keeping Modi out of their state. Why are they now not willing to reward him for taking such a big risk to reject Modi as the NDA's prime ministerial candidate? This is so contrary to what was promised to poor Nitish by Delhi's liberal activists and intellectual busybodies, who pumped his ego and led him to this disaster.
The truth is, it is not as if the Muslims are dumping him. They, like many other Biharis, would still prefer him as their chief minister, but that is not at stake now. The same NDTV poll tells you an overwhelming number of Biharis still prefer Nitish for their state. But this is not a chhota election, but bada. And today Lalu, with his Yadav base and the Congress as ally, looks like a much more credible force against Modi than Nitish all by himself, so what if he is still the sher ka bachcha.
We catch up with Nitish at a reasonably well-attended rally at Parsa in Chhapra (now Saran, after delimitation) constituency, where his Muslim candidate looks a distant third behind Rabri and Rudy. The Nitish of old is still all there. You can see it in the way he handles two groups of hecklers positioned strategically at the flanks, in front. They are carrying neatly printed banners that say they won't vote for him unless they get electricity, and how, when they complained to their MLA, he told them he had no idea where their village was located. "Does everybody want to protest or are there also people here who have come to listen to me?" he asks the crowd.
Sure enough, an overwhelming majority shouts the protesters down and Nitish launches into the details of what he is doing to improve the power situation. Of how, when he took over, Bihar got only 500 megawatts of power, while now he has taken it to 2,800, and more power plants are coming up. Also, he has a genuine sob story about the Centre messing up his coal linkages. This is a digression but it is also significant to note how "megawatt" has now become integral to election campaigns in India. Over the next four days, we hear everybody, from Modi to Rahul Gandhi to Akhilesh Yadav and father Mulayam Singh Yadav to Lalu to Arvind Kejriwal, talk about making power more plentiful and cheaper across Bihar. Isn't this change? And virtuously so.
But in this election, this will not work, and Nitish knows it. We catch him on the stage as his rally ends and I ask him if he realises he has made a mistake. Now, you haven't met many politicians who will admit that, and Nitish is no exception. But he goes halfway there, or sort of.
"What choice was I left with," he asks. "Was I to go along with this divisive agenda?"
"But if you found it okay to go with Mr Advani, what's wrong with Modi?" I ask. "In any case, why didn't you stay with the NDA for now, get your seats and then oppose Modi for the prime ministership when you had leverage?"
"It is easy to put it like that," he says. "But do you realise how much, what kind of things, I would have had to put up with? Now there is a man saying those who do not vote for Modi should go to Pakistan. Kis kis baat ke liye zindaabad kehte hum (what horrible things would we have been forced to keep cheering for)?"
"But you may lose this election, even your government."
"If that is so, so be it. You cannot sacrifice your beliefs and ideology," he is unfazed.
"But politics is no tirtha yatra (pilgrimage)," I continue needling him.
Nitish counters, saying it indeed is. And quotes a favourite Lohia verse describing public life as precisely that, a pilgrimage. You cannot win an argument with a real Lohiaite. Not even when he is looking at perhaps the greatest electoral setback in his politics.
Nitish can, however, still draw some comfort that when the time for the chhota election comes, his people may take a different view. His state has changed under him and his nine years in power represent a real tribute to Indian politics, and our grassroots politicians' talent for governance. You can fault him for not being able to bring industry and white collar jobs, or a lot more electricity, for failing to improve the Patna airport — probably the most dangerous on that scale in India — or doing anything for tourism, even getting a modern two-star hotel built. But his government works at the village level and the cities have seen a boom, however chaotic and haphazard. Property prices have zoomed and Biharis have a new sense of pride.
Nothing reflects that newfound pride more tellingly than the rising number of Biharis making it to all-India services and institutions through competitive examinations. From a semi-starving people roused to first demanding schooling, it is logical that the Biharis now want jobs, the best jobs India has to offer. And if nobody will do anything about it, they will do it themselves.
You want to see how? Come with me for a half-day's walk through the distant outskirts of Patna and see how voluntary activism works for an aspirational young population.
Anand Kumar, 42, has a likely Bihari story. A brilliant Mathematics student, Anand, who had papers published in reputed journals as a student, got admitted for a Masters at the University of Cambridge, but could not go as he was too poor to fund himself. For 12 years now, he has dedicated himself fully to ensuring that others, particularly those from underprivileged backgrounds like his (he comes from a poor OBC family), are not denied similar opportunities.
In partnership with a similarly concerned IPS officer, Abhayanand, he set up a remarkable success story, the much-celebrated Super 30, where he claims all 30 poor students selected by him every year through an exam and tutored at his home at Jakkanpur in Patna, make it to an IIT or NIT. In 11 years, of the 333 students coached by him and his brother, 281 made it to IITs, and the rest to NITs. He and his brother raise money by holding commercial group-tuition classes in the evening and use the earnings to provide free teaching, food and stay to their students, who now come from all over India.
It costs only Rs 5,000 per student per month, but once we start chatting with them, you know it's more money than any of them has seen in their lives. Meet Nidhi Jha from Varanasi. Her father is an auto driver, who also works as a priest to support the family and his children's education. She has lived in a temple precinct. She scored 84.4 per cent in class XII, and her father had the foresight to send her to a CBSE school. Do her parents mind her going so far away to live and study? She says, "My father said, go anywhere, as long as you can study and build a great career." Madhu Singh from Etah, is a Navodaya Vidyalaya student and scored 84.6 per cent in CBSE in class XII. Her father is a sharecropper. In fact, among the 30 handpicked students here, eight are products of Navodaya Vidyalayas, evidence that this Rajiv Gandhi initiative really worked. That the Congress has completely forgotten it and refused to even talk about it in this campaign tells you how comprehensively it has lost its way.
Dilip Kumar, from Lalu's Madhepura, is the son of a daily-wage labourer. He supported his education by teaching little children before coming to Super 30, but his brother is already an NIT-educated engineer working in Kolkata. So, his labourer family is already an aspirational success story. Sunil Ravidas, a Dalit from Patna, is also a daily wager and a Mathematics whiz. Amit Patel from Lohta, near Varanasi, is the son of a farmer who owns less than an acre of land.
You want more stories like these? There is Nitish Kumar from a village near Patna, also from a family that owns half an acre of land. Or Abhilipsa Priyadarshi from Cuttack in Orissa, patiently waiting with her thali for her lunch of rice and curry. She is so thrilled to have come to Patna. Is it too far? She just gives you a dimpled smile and says, "No." And while she doesn't say it, you know that it means, see me at an IIT soon.
You fight your way through the Patna chaos for another half-hour to a multistorey building and witness the miracle of Rahmani 30. Supported by Maulana Wali Rahmani's foundation in Munger, it has been running classes for 30 handpicked Muslim boys every year since 2008 to prepare them for the IIT-JEE examinations. Last year, eight of the batch made it to IITs and the rest to NITs. This year, Rahmani has started another batch of 30.
Shakeelur Rahman, son of a madrasa teacher from West Champaran, started his education, where else, but at the madrasa. But now, he is a master in Physics and Chemistry. Mohammed Tehsin Rabbani's father repairs automobiles at Samastipur, but still sent him to AV Public School for modern CBSE education. Six students from the current Rahmani batch of 30 come from families of marginal farmers, and six are sons of madrasa teachers. Shabbirul Hoda, Rahmani Foundation manager, says that these 30 are selected from 175 shortlisted after a nationwide test. Tahaq Ashmi, computer trainer at Rahmani 30, graduated in Arabic and talks fondly of the desktop computer he is setting up to train his students. You talk to Anand Kumar and he tells you he is running Super 30 because he believes that brilliance has nothing to do with how rich or poor you are, and that nobody should suffer his fate, and rather than feel sorry for himself, he'll do something for others.
You ask Abhayanand, now director-general of police and Physics topper from Patna University, and he tells you that after he finished teaching both his children, he realised the pleasures of teaching, as well as what it would do for young people. When he saw the Sachar Committee report, he realised how poorly young Muslims were doing in India and felt so strongly that all that stood between them and equality was a little bit of help and opportunity. One day, the maulana from Rahmani Foundation came to him and he decided to work with him on this project. "Now, I feel like a Physics teacher all the time, morning to night." He said it is no stretch for him to combine it with his job as DGP. In fact, his success on the law and order front is entirely matched by that of his batch of Muslim boys in IIT-JEE.
As we drive out, my colleague and The Indian Express special correspondent, Santosh Singh, who made it possible for me to see these exhilarating things, puts it in perspective. "I was born a Thakur, therefore a high caste, but my father's family only owned five bighas of land among four brothers. So, my mother never tired of reminding me and my three younger brothers that all we would get is five kathas (one katha is 1,361 sq ft) of land, so how will you survive unless you get education?" He continues, "My three younger brothers are also bank managers, and it is all because of our mother constantly reminding us of those five kathas of land." Santosh's story is not atypical in today's Bihar, or India. It is a story of aspirational parents, of ambitious children and impatient voters, where the future matters more than the past, identity or ideology. If this is how Bihar thinks today, the rest of India can't be far behind.
sg@expressindia.com
For all the latest Opinion News, download Indian Express App
More From Shekhar Gupta