Writings on the wall: Before the secular dip, hold your nose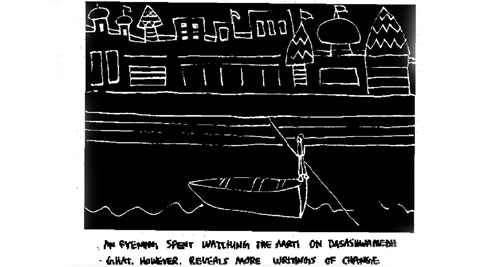 An evening spent watching the Aarti on Dashashwamedh Ghat, However, reveals more writings of change.
Because this is Varanasi. Where the Gangs of Poorvanchal have come together to fight communal forces. Where a firebrand radical isn't pleased they threw eggs at his rudraksh. Where, delightfully, Guptaji shows off his fish and chicken fry — and Brahmins can't wait to give India its first OBC prime minister.
Having made only four really short visits as a reporter to Varanasi, spread over almost four decades, I can't be so pretentious as to promise a definitive political profile of a city that defies adjectives but is, in its very own way, both the finest and most embarrassing embodiment of India's diversity.
Think, to begin with, of the stories that brought me here on these four occasions. First, in 1983, to cover a never-ending strike at Banaras Hindu University. The university may have been shut but I returned a sophomore, if not a graduate yet, in caste politics. All this is not academic. It is about caste here, said young BHU leader Shatrudra Prakash and then gave me the mantra: "Brahmin, Thakur, Bhumihar, eastern UP, western Bihar." I am happy to report that Prakash has done quite well in politics meanwhile. He is a formidable talking head for Mulayam Singh Yadav's Samajwadi Party (SP) on Hindi news channels, and has even served as a cabinet minister in Lucknow.
Of course, he has found greater fame recently, when the police in Gomti Nagar, Lucknow's equivalent of Delhi's Lutyens, found in his official residence two cars with exactly the same number plate. Maybe he loved that number or probably because of numerological compulsions, both had the vanity plate of UP-65-AA-9999. Curiouser still, both cars apparently had security stickers for the state assembly and the chief minister's residence. But both cars were rather modest, an Innova and a lowly Maruti Zen. A real socialist, still.
The second visit was in the summer of 1991, following Rajiv Gandhi's campaign trail from Bihar via Buxar and Ghosi, from where the Congress party's two funniest court jesters then contested, K.K. Tiwari (professor of English, he called V.P. Singh "Brutus" in Lok Sabha and later played a stellar role in hatching the failed St Kitts conspiracy to malign him) and Kalpnath Rai, who made his fame with that immortal pitch for his leader to Nutan Manmohan, then reporter for Madhu Trehan's video magazine Newstrack: Rajiv Gandhi is a daeemond, daeemond (cupping his palms as if holding that diamond), don't break it please.
A brittle daeemond, if you had ever seen one. He later defected to the Samata Party and threatened to pull down the dhoti of the then prime minister, Narasimha Rao, in Parliament. We finished that murderously hot day after Rajiv's last rally at 1 am (yes, the Election Commission wasn't such a girls' convent Mother Superior then), and while …continued »