Writing a new script in Bihar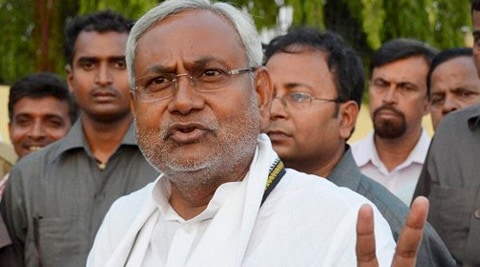 When Nitish assumed office in 2005, he wove a "coalition of extremes" to ensure multi-caste/ class support for his governance. ( Source: PTI photo )
The result of the 2014 Lok Sabha election is unprecedented. There has been a massive sweep for the NDA under the leadership of Narendra Modi. The "plebiscitary" character of the national campaign has marginalised many of the diverse social and regional agendas, which characterise the composite culture of India. Bihar's "resurrection" story that unfolded over the last decade was ignored in the national discourse. A decisive vote for Modi will not only strengthen the Centre to the detriment of provincial interests, it will allow the corporate sector to drive the economy from the front.
While the UPA, thanks to Lalu Prasad, has been able to maintain its tally in Bihar, the JD(U) has been routed. Taking moral responsibility for his party's defeat, Nitish Kumar has submitted his resignation as chief minister. Against the backdrop of ethno-religious mobilisation on an unmatched scale since the announcement of Narendra Modi as the BJP's prime ministerial candidate, Nitish justified his decision to sever ties with the BJP at a press conference immediately after resigning,. The cataclysmic election result, he said, is essentially because of majoritarian polarisation. Nitish made it clear that the split from the NDA was not tactical but "ideological". His prediction of how things would unfold has come true. Nitish's resignation has also taken the wind out of the sails of his detractors and will bring back a moral agenda into politics and governance — almost non-existent till now.
When Nitish assumed office in 2005, he wove a "coalition of extremes" to ensure multi-caste/ class support for his governance. With the break-up of the NDA in Bihar, this coalition collapsed. Thereafter, Nitish worked out a counter coalition — an agglomeration of non-powerful social groups. But this did not work. On the other hand, the NDA devised an alternative coalition of extremes by bringing Ram Vilas Paswan and Upendra Kushwaha into its fold. But an alliance between Nitish and Lalu could result in a new coalition of upper backward articulate castes and other non-powerful social categories, which would be electorally formidable.
Earlier, in order to maintain the coalition of extremes, Nitish had avoided taking up class issues, particularly land reform. However, this assiduously built coalition was strained when, during his first term, he introduced positive discrimination for lower backwards and women in panchayati raj institutions (PRIs). With the social justice movement reaching a decisive stage during the previous regime itself, this new reservation further weakened the hegemony of the traditional elite. Positive discrimination in PRIs was Nitish's first substantive policy decision that altered his government's class-caste neutrality. It was the fear of Lalu's resurgence that muted the traditional elites' resentment of this change. But …continued »