Work undone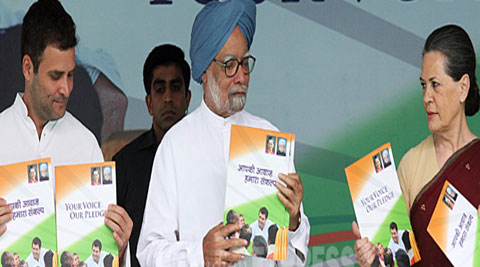 The Congress has promised a stimulus within 100 days if it comes to power.
Congress manifesto points to things the UPA didn't do.
Elections, as John Kenneth Galbraith said, are "the liberal hour". In spite of the cacophony, some importance is being attached to constructive agendas this time round. Poll surveys show that employment is a major concern. This is natural in a recession year. The Congress manifesto has tried to differentiate the party's economics from the economics of the UPA government's official advisors. It has promised to raise investment to 38 per cent of the GDP by starting a big infrastructure initiative within the first 100 days of forming government. In his concise analysis of the slowdown, the chairman of the prime minister's economic advisory council held that capitalists were sagely not investing at the moment.
He went on to deliver a neat, classroom-like lecture on the sources of growth. But he omitted to tell us that public investment actually fell two years ago by a little less than two per cent of the GDP and corporate investment only fell after that. In the absence of public resources, the entire edifice of public-private partnership infrastructure projects was punctured. The extent to which the Congress will determine economic policy in the time to come is not known. But regardless of whether it forms a third UPA government, supports a non-BJP coalition from the outside or sits in opposition, its views will still matter.
The Congress has now promised a stimulus within 100 days if it comes to power. We wanted this stimulus, along with a resource-raising programme (like the goods and services tax that is promised in the Congress manifesto), way back in August last year. But instead, India was given lectures on price stability. China, on the other hand, got a stimulus package. But we were told that it would suffer for that. Instead, it has managed to clock 7 per cent growth. Meanwhile, the UPA government gets a rap on its knuckles. No wonder both Sam Pitroda and P.C. Chacko have criticised their government's economic policies.
If there was any chance of a recovery in the first quarter of this calendar year, the RBI smothered it with its interest rate policies. In fact, it has clearly stated that the economy may turn around by August. No wonder Rahul Gandhi's manifesto ruefully asks RBI Governor Raghuram Rajan and the central bank to "balance growth with price stability", a point that a number of senior macroeconomists have made. The RBI's logic is that the growth rate of the economy is already given and monetary policy only determines prices.
But the RBI also needs to tell us how higher interest rates will soften the prices of eggs, poultry, milk, vegetables, fruits and energy. Most of the recent inflation can be attributed to a rise in the prices of these items.
But this question …continued »