Whose decision is it anyway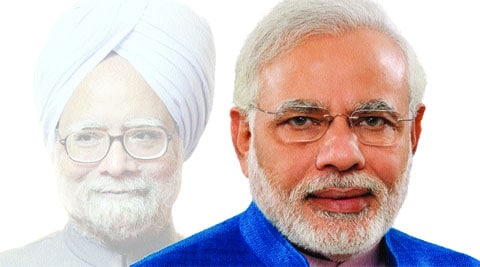 The practice of situating decision-making discussions outside cabinet forums was one of the major factors leading to a lack of political accountability.
The cabinet system of governance was eroded in UPA's tenure. Modi's challenge will be to restore credibility of its key decision-making bodies.
A clean slate throws up unimaginable possibilities, providing room and scope for several experiments that may, until now, have seemed politically impractical. So, when prime minister-designate Narendra Modi works his way through forming his cabinet, populating his office or making up his mind on key appointments, he is actually in the process of putting in place the instruments that will fill up this space. His hope: a new India story, rewritten, repackaged and more relevant.
Only democracy can produce moments of new beginnings. Yet, it remains anchored to a constitution that inspires institutions, sets limits and balances the distribution of power through a range of principles and safeguards. The two are not contradictory, but can become so if not made to complement and constructively overlap. The PM, as the head of the executive, is crucial to this interplay and, therefore, the last stop for all decisions.
This is where Modi inherits a legacy charged with overstretching the system and outsourcing decision-making processes. Put simply, the cabinet system of governance was sharply eroded due to extra-constitutional powers vested informally through arrangements, such as the Congress core group. The Cabinet Committee on Security, the apex decision-making body headed by the prime minister, was not necessarily the last stop for decisions on sensitive issues. Serious questions can be raised in due course on whether matters made it to the agenda only after political concurrence had been obtained through informal channels.
So, whether it was taking a call on Siachen, taking a far-reaching call on Kashmir, changing the approach in the fight against the Naxals or building new institutions to fight terror, the CCS seemingly dithered and delayed. The inability to reach a consensus on crucial issues on certain occasions led to mediation within the Congress command structure. Restoring the credibility of this apex decision-making body of the cabinet would mean a careful choice of those who head the ministries that constitute the CCS, shaping a view through constructive dissent rather than manoeuvring to kill initiatives because of internal differences.
There is no doubt that Modi's authority, as is visible, will be final and unquestioned. Yet, it is vital that the decision-making is largely collegiate, because this is the one committee where minutes are not maintained, unless so decided, and where even senior officials are called in only if required. The sanctity of this forum lies at the heart of the cabinet system of governance and making it work effectively and properly could be a significant achievement, which is what makes the selection of these ministers not just portfolio-centric.
The other cabinet forum …continued »