While we were deceiving ourselves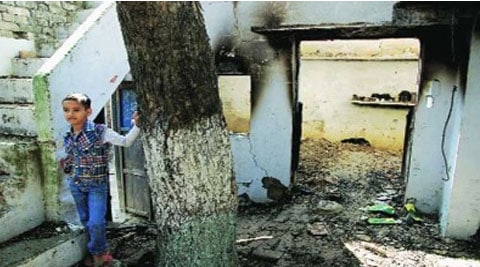 A modern state cannot allow state institutions to be used for promoting communal mobilisation.
Do we have no idea of the relentless propaganda, the dark threats, the extremists standing beside 'moderate' Modi?
Dilip Simeon
Shekhar Gupta's article, 'Secularism is dead!' (National Interest, IE, April 19), is significant. The elephant in the drawing room is the refusal by many opinion-makers to address the violence and brutality that has rampaged through India for decades. They don't see it — worse, they don't think it a big deal. (The closest Gupta gets to it is his use of the word "spank" — a telling euphemism). Gupta addresses himself to those capable of heading to American campuses. But they aren't the ones in the refugee camps of Muzaffarnagar, Jammu, Juhapura or Vatwa.
Gupta reminds us of India's democratic traditions and institutions, and the great heart of Hinduism. But these great institutions/ traditions have been systematically undermined. Over the decades, we have been unable to uphold the minimal requirements of a civilised polity — the protection of life. The liberal Hinduism that is the bulwark of Indian secularism is under attack from those who are mobilising like never before to seize power for a Savarkar-ite programme. Why is this irrelevant to democratic concerns?
I'd like to know Gupta's views on the RSS and its activities. And whether it is likely that any other leader could be cited as encouraging the terrorist violence referred to by Swami Aseemanand and be let-off so lightly. Why have the bulk of the mainstream media blacked out Manoj
Mitta's book on the post-Godhra investigations?
There is indeed a link between the violence of the Congress and the RSS; a seamless thread between 1984, 2002 and 2008. Fascism's hold on power arises primarily from intimidation, and is exhibited at the first moment that state organs tolerate or enable illegal activities of fanatical cadre or crowds. That's why ideological links are more significant than organisational ones. The bane of political analysis today is the reduction of all matters to a partisan dimension. And the most blatant deceit has been the failure to notice that extremism has gone mainstream.
There will be talk of forgetting the past. (It's ironical that those who ask us to forget 2002 never let us forget 1528.) And, as Gupta says, there are safeguards. But no one is arguing as if yesterday we had democracy and tomorrow we shall have fascism. Nevertheless, the polity will undergo a big change, and the RSS will accelerate its quotidian erosion of liberal-democratic values. Will the BJP discipline the man who says all critics of Modi should emigrate to Pakistan? Did not Modi use similar language about the defence minister and Arvind Kejriwal recently? Do not such utterances signify an assault on the mind? Does India deserve a prime minister upon whom no requirement of reasonable speech may be imposed? Yet Gupta tells us "this …continued »