Where's the party?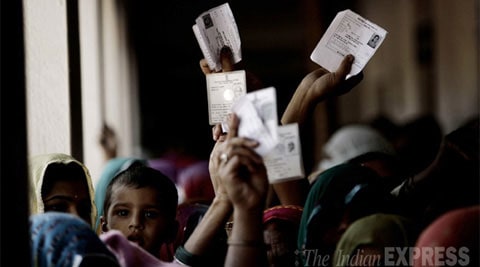 While chasing attempts to maximise vote share,
mobilising is motivated by policies.
Andhra campaign relied on technology and leaders for political communication.
The May 7 poll in Andhra Pradesh marked the culmination of one of the most difficult and trying election campaigns for political parties in the states of AP and (still to be formed) Telangana. At the same time, these elections solidified some trends observed in parties across the polity. Political parties, with some rare exceptions, are increasingly content chasing voters and maximising their vote share, rather than emphasising policies and mobilising their own stable voting public.
Unlike earlier elections in AP, this time around it was almost like a "founding" election and there was a great deal of uncertainty, given the three striking changes that have taken place since the previous elections in 2009. First, the impending bifurcation of the state threw both political parties and the party system itself into complete disarray. There was a shuffling of party personnel, with multiple crossovers between parties. Most parties now have a fair sprinkling of former Congress members, leaving the Congress itself substantially emaciated. Second, the electoral scene in AP has just been crowded with a couple of new players and in future, it could look increasingly like its southern counterparts, Tamil Nadu and Kerala. Third, thanks to the proactive role of the Election Commission, there was a sizeable increase in new voters. More importantly, more than 16 per cent of the total electorate is in the 18 to 25 age bracket. These three changes together pushed political parties hard. Parties had to both recalibrate and reposition themselves, and this was most visible in the nature of the electioneering.
As in other parts of the country, electioneering went through a series of changes, affecting the voter-party relationship and interaction. The more prominent changes include the increasing reliance on both technology and marketing techniques for political communication. Nearly all political parties have an online presence and today the use of social media to reach out to the public is almost considered passé.
Technology savvy and, more importantly, resource rich parties like the Telugu Desam Party (TDP), the Bhartiya Janata Party (BJP) and the Telangana Rashtra Samithi (TRS) also used 3D holographic projection technology extensively to beam public addresses of their respective leaders across multiple locations simultaneously. Some of the parties were also reported to have used specialised constituency management software to centrally manage the entire electioneering process. The TDP also experimented with an Interactive Voice Response System (IVRS), not only to reach out to the voters but for candidate selection itself.
Like business enterprises, parties in the state also regularly used "market intelligence" in the form of surveys to not only assess themselves but also obtain information about what voters wanted. Many individual leaders reportedly held polls in their respective constituencies to gauge public opinion on the popularity of parties before crossing …continued »