What Jayalalithaa wants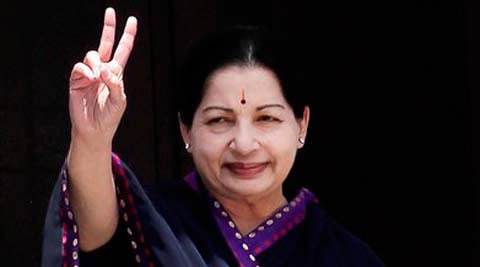 Though Jayalalithaa does not mention the BJP or Narendra Modi in her speeches, she is thought to be Modi's friend, who will back him after the elections. (PTI)
Several months ago, the AIADMK announced that the next prime minister of the country would be from Tamil Nadu. It was clear they meant that the chief minister and AIADMK leader, J. Jayalalithaa, was going to be that leader. The state erupted in a flurry of posters and flex boards, extolling her virtues and saying how Parliament was waiting to be graced by her footsteps.
One doesn't know whether the enigmatic Jayalalithaa approves of exuberant displays of sycophancy. One assumes she is letting her cadre dream the dream to keep them motivated. Months ahead of other party leaders, she had also announced her Lok Sabha plans — her party would contest alone and capture all 39 seats in Tamil Nadu.
There was a brief period for which it appeared that the CPI and CPM would be her allies and help out if a Third Front emerged. But with the collapse of the Third Front, their short-lived association came to an end. Now the Left parties are contesting alone.
Much has happened since Jayalalithaa made her prime ministerial ambitions known. For the first time in many decades, there is a five-cornered fight in Tamil Nadu — if one includes the fledgling AAP in the count. Vijayakanth, who heads the DMDK and is also known as Captain, was being courted by the DMK, Congress and BJP. He finally threw in his lot with the BJP. Though he didn't win any seats in the 2009 Lok Sabha elections, he managed to get a 10.3 per cent vote share. It is this magical number that makes him attractive to everybody.
The BJP, which has always needed to hang on to the coat tails of one of the Dravidian parties in Tamil Nadu, has now cobbled together a "rainbow coalition" with the DMDK, PMK, MDMK and some other smaller regional parties.
This is what Jayalalithaa would have wanted. A DMK, DMDK, PMK and Congress alliance would have been formidable. But the DMK didn't want to partner with the Congress, and Vijayakanth chose the BJP. Tamil Nadu will now witness a five-cornered contest.
But several recent surveys predict that the AIADMK may get only 20-25 seats. Closer to the elections, these numbers are predicted to drop further. In her campaign speeches, Jayalalithaa has no longer been asserting that the next PM will come from Tamil Nadu. Instead, she is now emphasising that regardless of who wins, they will need her support to form government, and this will enable her to bargain for benefits for Tamil Nadu.
There are several reasons for the perception of the AIADMK's dwindling numbers. Barring a few exceptions, Jayalalithaa has chosen completely unknown …continued »