Warped and weft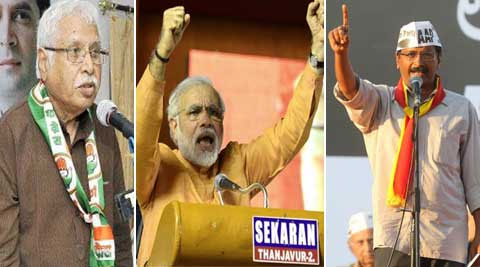 Weavers want training and financial assistance to upgrade looms, and relief from fluctuations of yarn prices.
What Varanasi's weavers want from their Lok Sabha representative.
This is probably the first time weavers' needs are an issue that must be addressed by 77 candidates in a parliamentary election. Weavers number over 1.5 crore, yet Parliament has never had a strong voice for them. Only a Congress Rajya Sabha MP from Andhra Pradesh regularly raised questions about suicides by handloom weavers in the early 1990s. Across the country, weaver's cooperatives exist largely on paper. Powerloom cloth is sold as handloom. Highly skilled weavers survive, but the much larger number of semi-skilled weavers are sinking. Some survive by selling their own blood. This latest tragedy happened in Varanasi, which today is attracting worldwide attention for other reasons.
The history of Varanasi's weavers is intricately woven into the very fabric of Varanasi society. Just as local pollution has affected the Ganga, the ecosystem of Varanasi's handloom weavers has been harmed. The main reasons for the handloom crisis are: one, fluctuating costs of Chinese silk yarn, controlled by local cartels; two, computerised powerlooms replacing handlooms; three, lack of regular electricity, leaving worksheds in darkness; four, bad sewerage systems causing gutters to overflow and flood the pit loom areas; five, changes in local and global market preferences, leaving sari-width looms idle; six, dumping of cheap foreign textiles, encroaching on markets for textiles made by semi-skilled weavers.
This sector's problems belong to the weaver's community as a whole. It is not a case of communities divided by religious politics but sharing the same problems. Of immediate concern should be the condition of weavers at the lower end of the ladder. They are victims of market changes, exploitation, power cuts and fluctuating yarn prices. It is imperative that no candidate or party attempt to tear apart this carefully woven, centuries-old tradition of harmony, propagated even in the 14th century by no less than Sant Kabir.
Despite Rs 70 crore for the development of "mega clusters" from the Union finance minister for his constituency in Tamil Nadu, and for Varanasi, because of the Congress vice president's visit, the situation for the majority of weavers has worsened. The assessment made by those working within the handloom sector in Varanasi is that silk weaving earlier provided a livelihoods for about 700,000 people. This has now been reduced to about 2,50,000. The government claims that 75,000 looms are working in Varanasi, but weavers laugh this off, saying no survey has been conducted in the last 15 years. At least 40 per cent of looms in and around Varanasi are idle. On average, a weaver earns just Rs 50-60 a day. Approximately 50,000 people are out of work in Varanasi because of globalisation and the "China" factor. In 2006, imports of textiles from China amounted to 10 lakh …continued »