UP of 'timepass youth' and purposeless waiting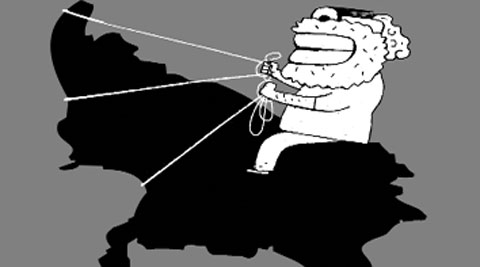 UP remains trapped in traditional politics and has not been able to make use of the new opportunities provided
by liberalisation. CR sasi kumar
For too long, UP politics has been trapped in a time warp. This verdict shows that it feels left behind.
The results of the 2014 national elections, particularly for UP, are a complete reversal of the 2009 mandate. The tectonic shift in UP is significant as it was the battleground from where three major contenders — Narendra Modi, Rahul Gandhi and Arvind Kejriwal — fought the election. Moreover, it is not a victory for the BJP as much as it is for Modi in UP and elsewhere. In 2009, the Congress party won 21 seats in UP, which was one of the 12 states that powered the UPA to victory. This led observers to comment that the party was on the path to recovery in the state. But in 2014, it has only won the two family seats of Sonia and Rahul Gandhi.
The BSP and SP — which obtained 20 and 23 seats, respectively, in 2009 — have been wiped out. The former won zero seats and the latter five, all of which have gone to Mulayam Singh Yadav and his family members. The BSP, whose vote share has been rising since the 1989 national election, gained 4.2 per cent of the votes but did not get a single seat. In UP, it lost all 17 reserved seats to the BJP, and even strongholds like Sitapur, Misrikh and Ambedkar Nagar. In constituencies where the BSP and SP fielded Muslim candidates, the latter's nominees reportedly gained more votes. While it could be argued that the results would have been different in an assembly election, the BJP, which had won 10 seats in 2009, has obtained 71 out of the 80 seats in UP this time round. It mopped up the Hindu vote, effectively decimating the Congress and penetrating the backward and Dalit base of the BSP and SP.
While a detailed analysis of the results is required, three preliminary explanations can be proffered. First, the Muzaffarnagar riots and communal mobilisation that followed polarised voters, which helped the BJP. The BJP, following its decline in the state after the demolition of the Babri Masjid, did not have a well-established organisation in UP. However, the appointment of Amit Shah as strategist and campaign manager and the support of the RSS changed that. Together, these well-planned decisions revived the Hindutva agenda, revamped the organisation by setting the old guard aside and by bringing in younger candidates, and took the campaign deep into the countryside. Also, while Modi initially spoke mainly on development issues in his UP rallies, during the last phase of polling, there was a definite communal appeal.
Second, the anger against the government for failing to prevent …continued »