Unlimited mandate for a limited man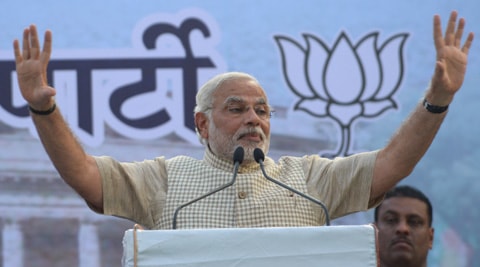 It was no surprise that in his prime ministerial quest Modi became the favourite of big business, which had its own selfish and unhealthy reasons to throw the UPA regime out. ( Source: AP )
In retrospect, it is quite clear that the die for the transformative vote of May 16 was cast in the third week of January 2014. Two events that week foretold the Modi mandate. On January 17, at a special session of the AICC, the Congress had showcased Rahul Gandhi as its electoral mascot but betrayed its own uncertainty when it failed to name him as its prime ministerial candidate. The young Gandhi came across as eager to appropriate the spoils of success but unwilling to dare the adversity. That week, Rahul Gandhi forfeited a claim to national leadership.
And then, a few days later, on January 21, the then chief minister of Delhi, Arvind Kejriwal, decided to sit on a dharna outside Rail Bhavan, insisting on the peremptory transfer of two police inspectors. Till then, he was the articulate, prosperous middle classes' hope for an authentic, alternative political idiom; suddenly, he came across as a dangerous henchman of anarchy, who could not be trusted to operate the levers of governmental responsibility.
Thanks to these two political infelicities, the third alternative, Narendra Modi was in business. He had tom-tommed the "Gujarat model" for few years now. And, he had already displayed a gift for going for broke when he took on the old, tired establishment in the BJP itself. It helped that he had the RSS in his corner, yet he touched a cord among the young voters who seemed happily determined to kick out the jaded and the faded crowd across the board. The country desperately yearned for change and Modi adroitly positioned himself as the commander-in-chief of that sentiment.
It was no surprise that in his prime ministerial quest Modi became the favourite of big business, which had its own selfish and unhealthy reasons to throw the UPA regime out. And, with big business came big media. Never before had the republic witnessed such an unequal and un-balanced electoral coverage; and Modi out-spent, out-thought, out-talked and out-foxed the Congress. For its part, the Congress seemed bent on breaking all rules for political ineptitude.
Modi's creative team should be credited for coining the "maa-beta party" moniker for the Congress. And, with clangorous insistence, Modi hammered away at the "dynasty model", inviting the voters to question and revise some of the basic assumptions and arrangements of the last 40 years. Modi's campaign rhetoric was low-minded, un-elevating, but perhaps fit in with our coarsened habits of discourse. So comprehensive seems to be the desire to turn a new national leaf that voters did not mind Modi's …continued »