The unfinished makeover of Nandan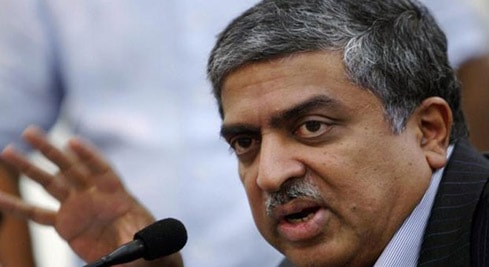 Nandan Nilekani's demeanour and body language indicate that he is not entirely at ease in his new role. (PTI)
"Naanu nimagagi hagu bengalurigagi horaduthene," says Nandan Nilekani, the Congress party's candidate from Bangalore South constituency, in a video on his YouTube channel, forcefully slicing the air in front of him. "I will fight for you, I will fight for Bangalore," read the sub-titles in the video as Nilekani tries to sound at ease in Kannada.
Nilekani, who was born in Bangalore's historic, government-run Vani Vilas hospital, studied at Bishop Cotton's school in the city that also headquartered the IT firm he co-founded, Infosys, is furiously brushing up his spoken Kannada skills with the help of a private tutor. The results are showing, and not just in the video. These days, Nilekani's public speeches are peppered with Kannada phrases and sentences.
The speeches are not a sign of Nilekani's new-found passion for the local language. Rather, they are politically expedient moves in an election where opponents are easily likely to suggest that Nilekani, a native Konkani speaker from north-west Karnataka, is not "local" enough if he cannot converse in fluent Kannada.
The video is also testimony to the slow makeover of a man whose business jacket-and-tie corporate look of his days as Infosys CEO has made way for the quintessential Indian neta look. For formal appearances, Nilekani sports the Nehru vest. For other occasions, it is a two-sizes-too-large, half-sleeved shirt, which incorporates elements of the government babu and a working member of India's middle class.
But the transformation does not stop at his appearance. These days, the man who is soon to relinquish his government post as chairman of the Unique Identification Authority of India is eating, drinking and living his election.
"Loved the idli-vada I ate for lunch at SLV…" Nilekani tweeted one day. On other days, the "dal vada" at a food festival and the "bread dosa" of South Thindies showed up on his Twitter timeline as also the Sunday breakfast at the very south Indian Kamat Bugle Rock. It is a different middle-class culinary landmark each time for Nilekani.
There are very few airs of the billionaire about him and Nilekani arrives at election meetings in a down-to-earth compact car. The luxury sedan and SUVs favoured by successful politicians are not for the erstwhile corporate executive. The candidate has provided plenty of photo ops tying in to his middle-class roots — riding a bicycle, taking a morning stroll in Krishna Rao Park, one of the haunts of old-time Bangalore residents, and even riding a Bangalore city bus.
Nilekani's makeover is certainly more than cosmetic. His journey in public life dates back to his time as Infosys CEO when he headed chief minister S.M. Krishna's Bangalore Agenda Task Force, a private-public-government combined approach to administering the city. Since then, …continued »