The stage is set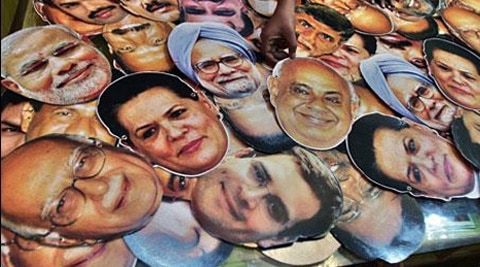 With 81 crore voters and 11 million personnel conducting the polls at 9.36 lakh polling stations using 1.4 million EVMs, the Indian election is considered the biggest such event in the world. (AP)
So India is all set to witness the biggest-ever election. With 81 crore voters and 11 million personnel conducting the polls at 9.36 lakh polling stations using 1.4 million EVMs, the Indian election is considered the biggest such event in the world. This is a management event that expects zero error and 100 per cent success. For the Election Commission, a 60 per cent successful election, or even 80 or 90 per cent success, is not an option.
The EC is now a very experienced institution, with a well-oiled machinery. Its foremost concern every time is, of course, a peaceful poll. The safety of voters, of polling staff and even of security forces is always an overriding concern. We cannot afford to lose any lives. The muscle power of the proverbial bahubali or strongman is now history. Vulnerability mapping, deployment of paramilitary forces and the 24×7 video watch on them ensures that they behave.
The other ongoing issue concerns the Model Code of Conduct (MCC). This is the most dreaded weapon in the hands of the EC. Every leader worth his salt shudders even at the thought of receiving a model code notice. Many citizens, however, feel disappointed that all that the EC does against defaulters is issue warnings, reprimands, condemnation or censure. They probably expect drastic action like the cancellation of elections, derecognition of the political party concerned or even the registration of criminal cases. They go to the extent of calling the EC toothless. This perception is absolutely flawed. The MCC's moral authority is extremely high. The fact that even the issue of a notice hits the headlines and becomes a subject of editorial comment for days on end is a major punishment for the defaulting politician, who cannot afford to lose even 1 per cent of public support. Have you seen any hate speech in the last few years? Personal attacks have become a rare occurrence. The abuse of government facilities by the ruling party has been reduced to zero.
There have also been new developments in the last few years. The impact of these will be seen in the forthcoming elections for the first time.
Foremost among them is an unprecedented awakening among the youth and women in the wake of the creation of a voter education division in the EC. Its programme, SVEEP (systematic voters' education and electoral participation), has metamorphosed voter apathy into a participation revolution. Four years ago, only 10 to 12 per cent of young voters who were 18-19 years old were enrolled. Now, the figure has gone up by …continued »