The Naveen wave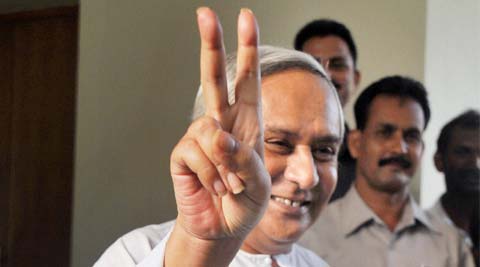 Naveen's fourth tenure could also be haunted by the chit fund scam that is now being probed by the CBI.
Some 17 years ago, when a political greenhorn landed in Bhubaneswar after the death of his father, many in Odisha must have scoffed at him. Naveen Patnaik had spent more than 50 years of his life outside the state, did not know Oriya and was probably the most reluctant politician in India at the time. Nobody gave former chief minister Biju Patnaik's son more than a few months in Odisha politics. Yet this week, Naveen Patnaik took oath as Odisha chief minister for the fourth time.
Even about two months ago, many predicted a defeat for Naveen — he had to battle anti-incumbency sentiments and a BJP surge in urban areas. But Patnaik swept the recent polls, winning 117 out of 147 seats in the state assembly and 20 out of 21 Lok Sabha seats. The Congress and the BJP were pulverised in the state. The Congress's vote share plummeted to an all-time low of 25.7 per cent while the BJD scored a record 43.4 per cent. This was the first time that the Congress drew a blank in a Lok Sabha poll. While the rest of India saw a Modi wave, it was a Naveen wave that helped even rank newcomers and partymen with suspect capabilities win the polls with handsome margins in Odisha.
But Naveen is acutely aware that his flock of 20 BJD MPs will be of little use to the NDA government, now that it has such a large majority. Also, this will probably be the last term for Patnaik and he will have to deliver on infrastructure, agriculture and employment growth. Though agriculture contributes only about 17.5 per cent to the state GDP, around 75 per cent of the population depends on it. With little increase in the state's irrigation network, the sector's contribution to the GDP has been on a steady decline in the last decade. A concerted attempt to improve irrigation facilities could enable farmers to grow more than one crop in a year, which in turn would generate higher incomes.
Despite his promise of raising employment, not much has been achieved. The promised wave of industrialisation has not materialised. Much of the youth is forced to migrate to states like Gujarat, Tamil Nadu, Karnataka and Andhra Pradesh. According to the 66th round of the NSSO, the unemployment rate in Odisha was 8.1 per cent in rural areas, compared to the national average of 6.8 per cent. In urban Odisha, it was 6.3 per cent, against a national average of 5.8 per cent.
But another factor that could have a major impact on Naveen's developmental schemes is the drop in mining revenues in the aftermath of the mining scam. With just 30 of the 170-odd iron ore and …continued »