The family strikes back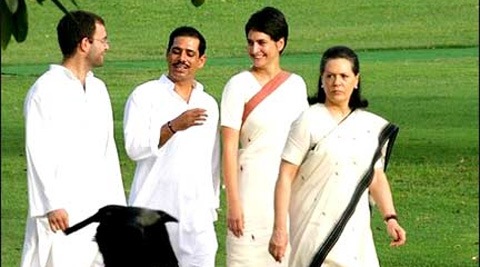 Leading politicians are using the media to address each other rather than to address the problems facing the people. Reuters
It's been very much a Priyanka Gandhi week.
Let's talk about the week that was. Well, first, it wasn't about Arvind "Cough" Kejriwal. Second, it wasn't about Rahul "Earnest" Gandhi. And it wasn't much about the general elections either. It was more about Robert "Damaad Shri" Vadra, "Honeymoon" Ramdev, Priyanka "Last Congressman or woman Standing" Gandhi and, of course, Narendra "Barrel-chested" Modi. Derek "Quizmaster" O'Brien (TMC) gate-crashed this high-profile headline party by trying to change Modi's professional qualifications from tea vendor to butcher, but he was only briefly breaking news.
And for those of you who are avid YouTube watchers, it might just have been about Last Week Tonight, a new talk show in the US on HBO, with stand-up and now sitting down comic, John Oliver. He devoted over five minutes of the premiere episode to the indifference of the American media to the Indian polls — "the biggest election in human history", "handsome" Rahul, "hologram" Modi and the Foxification of our TV news channels. The latter he illustrated with clips from Times "Shouting" Now matches and CNN-IBN's incorrect graphic, "A Billion Votes", whereas there are 815 million voters. Well, it was fun while it lasted, although it was a bit far-fetched to claim that Modi was fighting this election on the strength of "toilets" for everyone, even as bathroom humour.
From what we watch on TV news, the election campaign is no laughing matter. We saw Ramdev hurt Rahul's feelings by saying he wants to marry a foreigner but his mother wants him to be prime minister first (boo-hoo!), and the feelings of Dalits by saying that Rahul visits their homes for "picnics" and "honeymoon" (for which he'd have to be married first, right?). The BJP insulted the first family's son-in-law to target Priyanka for deriding Modi's 56-inch chest, with its video broadcast on all news channels entitled, "Damaad Shri". That was difficult to engage with for the lay viewer but obviously hit its mark, because Priyanka immediately fired back with her description of the BJP as "panic-stricken rats". It's been very much a Priyanka Gandhi week, with the media — and the BJP — hanging on to every word she had to utter.
That's the thing about this election: leading politicians are using the media to address each other rather than to address the problems facing the people. They are talking to each other and they're talking to the entire nation via TV (or, in Modi's case, holograms). So Priyanka may be delivering an election speech in Rae Bareli, but her remarks are for the BJP and a national audience.
Also, the media is largely indifferent to coverage of the problems facing the people and how politicians on the campaign …continued »