Telescope: What the pollsters say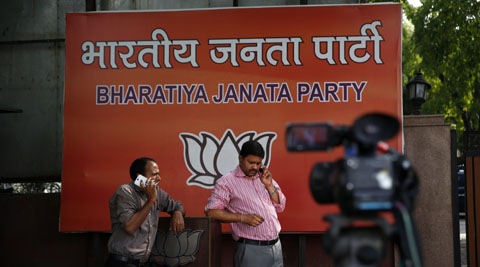 The exit polls, alongwith the TV news anchors, rushed onto the air excitedly Monday evening.
'It's a one man show' (Zee Business). It's a successful 'presidential' performance (CNN-IBN).'This is historic' (Headlines Today). Yes but is it a 'wave' or not a wave? Or is it a 'tsunami'?  Ay, those are the questions which will remain unanswered until Friday, May 16 when, as many politicians put it, 'the only poll that counts' in the Lok Sabha elections, 2014 will be known.
The exit polls, alongwith the TV news anchors, rushed onto the air excitedly Monday evening. They've been a long time in coming, some dating back to April 7 when the first phase of these elections was held. All the major channels went with exit poll results, barring DD News –which never bothers with such frippery matters lest they annoy their present political masters or the ones who may succeed them  —  and NDTV 24×7 which waited till the other channels had pretty much exhausted the data from their exit polls by Tuesday, to present their exit polls on Wednesday evening.
As always, there were variations on the theme with Times Now the most conservative at NDA 249, UPA 148 and Others 146 and Today's Chanakya predicting a tidal wave for the NDA – 340, UPA 70, Others 133.  All the others were somewhere in between. Meanwhile, channels which had no polls of their own, ended up showing and debating the findings of the other polls (Focus TV).
An odd thing happened to the Times Now/ORG poll between Monday and Tuesday. It changed names. On Tuesday, while its sprawling panel of experts on two sides of the studio, hotly debated, contested the details of its poll which gave JD (U) no seat in Bihar for instance, the name of the poll was presented as a NewsNation/ORG poll. Huh?
Thanks to a Twitter flutter on Tuesday, we know that ORG is Operation Research Guild and not the better known Operation Research Group as most viewers would have assumed. But why had the poll been rechristened on Tuesday? Even if the data was shared between Times Now and NewsNation, why was the former shy of taking ownership of its own poll? Could it be because its figures for the NDA were the lowest and for the UPA the highest across polls?
While BJP spokespersons like Ravi Shankar Prasad appeared on TV news debates all pumped up by the exit polls' results, the Congress was severely deflated—quite apart from the fact that it had earlier decided to boycott opinion polls . This time it fielded the likes of  the irrepressible Mani Shankar Aiyar (CNN-IBN) and the tireless Randeep Singh Surjewala on several channels.
The debates around the exit polls were inevitably about the man of the moment, Narendra Modi. They also considered the performance and future of the man whose moment had evidently not …continued »