Regarding fascism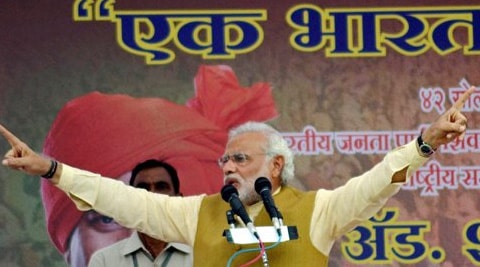 Narendra Modi
The rise of Narendra Modi has brought the "F" word into promiscuous use. The spectre of fascism is said to be haunting India. It is easy to dismiss this concern over fascism as the hyperbole of a crumbling elite that has often used moral outrage as a substitute for addressing genuine political challenges. It might be tempting to engage in an argument over the historical specificity of fascism. Can the the combination of military power, total mobilisation and eliminationism that marked fascism really be reproduced in India?
But take the core concern beneath the hyperbole seriously. The communal atmosphere in some parts of the country is fragile. Dozens of riots in UP testify to this. As Suhas Palshikar had argued, the BJP has regionally varied strategies.
In UP, in particular, it involves fishing in troubled communal waters. Whatever Narendra Modi's intentions or change of heart might be is besides the point. India still has a communal challenge and ultimately the quality of its democracy will be judged by how it deals with it. You don't have to subscribe to analytically otiose invocations of fascism to wonder what this election means for India's prospects as a country where no one is targeted for being who they are. All sides speak about minorities, but few speak to them.
Whatever Amit Shah's organisational genius might be, his track record should make you nervous about the kind of intimidation he could create. If we end up voting for them, the morning after we will need to think of the kinds of structures that can mitigate the damage they might do. BJP supporters, who might bristle at being called fascist, would do well to act reassuringly on these concerns.
The best way to respond to accusations of fascism is not to dismiss them. It is to make them look silly by your own exemplariness.
But those scare-mongering on fascism also need self-reflection. Many of those dropping the "F" word also betray a will to simplification that tells you more about those making the accusations than it does about politics. The Indian Left is incapable of any dialectical thinking; there is not a trace of reflection on the forces that have brought us to this pass. There should be no complacency over the communal question.
But what is it about the structures of our thinking about communalism that 60 years after Independence, we seem to be revisiting the same questions over and over again? Is there some deeper phenomenon that the BJP-Congress system seems two sides of the same coin to so many, even on this issue? The point is not about the political equivalence of two political parties. People will make up their own minds. But is there something about the way we have conceptualised the problem of majority and minority, trapped in compulsory identities, that makes communalism the inevitable result?
Is there something odd when voting for the Samajwadi Party, which has done its damnedest …continued »