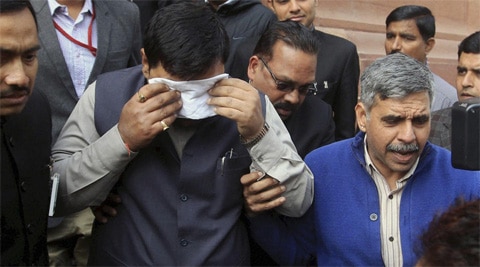 An unidentified member of India's parliament covers his face with a handkerchief after being affected by pepper spray gas in New Delhi. (Photo:AP)
The most damning description of the 15th Lok Sabha came from Mr Pepper Spray himself. When Rajdeep Sardesai tried to rebuke him for having lowered standards in the House to a staggering new low, Shri Lagadapati Rajagopal said he had a legal right to use pepper spray in "self defence" since he was being attacked by a "mob". When Sardesai, in tones of outrage, asked if he were describing the elected representatives of the people of India as a mob, he said he was. Will he be censured? Will he be charged with breaching parliamentary privilege? Almost certainly not. And it is perhaps because the Speaker of the Lok Sabha has been so indulgent when dealing with unacceptably bad behaviour that the 15th Lok Sabha will be remembered more for hulla-gulla than for debate.
Serious debates have been so rare that when I close my eyes and visualise the 15th Lok Sabha, the words I hear loudest come from the Speaker herself. 'Baith jaiye. Baith jaiye. Nahin, nahin, please baith jaiye'. Meira Kumar's thin, little-girlish voice said these words over and over and over again. Personally, I have never understood why MPs who disrupted proceedings and resorted to the tactics of street fighters in the highest temple of Indian democracy were not dealt with more sternly. If I had been Speaker (wishful thinking!), I would have expelled everyone showing lumpen tendencies and not allowed them back into the House till they had learned to behave like lawmakers. One remedy could have been to force them to watch debates in the House of Commons. They may have learned that the best way to win an argument is reasoned debate.
The truth is that our elected representatives are not the only ones who need this lesson. Prime-time television chat shows offer proof that most Indians need desperately to discover the importance of debate. And I speak not just of semi-literate Indians but the most highly educated of our countrymen. I offer one example that had me as the victim. Barkha Dutt invited me to be on a panel in which the other person in the studio was a woman who had seen her husband and son burned alive by a mob in 1984. I sympathised with her and was telling her how brave she was to carry on her fight for justice when suddenly Mani Shankar Aiyar popped up in a window and yelled at me for "going to dinner parties and writing dirty books". "Wash your mouth out with soap", he shouted like an enraged schoolgirl.
When this comes from a man who flaunts his educational credentials (Doon, St Stephens, Cambridge) every chance he gets, you need …continued »