Out of my mind: The blame game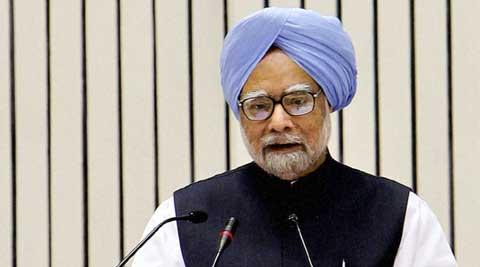 Manmohan Singh was chosen precisely because he was quiet and not likely to steal any credit from the Family. (IE)
Bill Shankly, who was the legendary manager of Liverpool Football Club, was asked what to do about the many fouls being committed on the field by the opposition teams against his players. He said, "I advise them to get the retaliation in first before they are fouled."
That seems to be the mood in the Congress now. Despite doubting the polls which all predict a washout for the party, it has begun the blame game of why it is losing. Since neither Rahul nor Sonia Gandhi can be blamed for any loss (though they will get any credit that is going around), the blame is now being placed on poor Manmohan Singh. The new story is that it was Manmohan Singh's quiescence, his passivity, which is now being exploited by Narendra Modi as the problem which plagues India. Thus the sheer activism of Modi is now being seen to be the BJP's strong point. It is not what Modi may do but just that he is voluble and active, which is the plus factor against Manmohan Singh's quiet style.
Of course one may well ask whether Manmohan Singh was not pushed into silence by being perpetually ignored if not insulted by his Congress colleagues. He was chosen precisely because he was quiet and not likely to steal any credit from the Family. It was  because he was willing to seem passive that he was the man of the moment in 2004. There was no shortage of powerful, voluble, politically savvy Congress leaders who could have been chosen —Pranab Mukherjee or Arjun Singh. If the choice then has become the problem now, the root cause is closer at home for the Congress. The Family proposed and so it now disposes the PM, sadly into the dustbin of history.
That said, what is Modi's secret of success? As of now, away from the Congress and the various old parties, there is huge expectation that he is a miracle worker. Just because Manmohan Singh is being blamed for the growth slowdown and the inflation upsurge, Modi is expected to deliver a huge growth boost and a drastic fall in inflation. But we do not really know any details of what Modi will do. What we know is that he is decisive and that he is an implementer of his decisions. But even so, can the experience at the state level be relevant at the national level? If that is the case, we still need to know the details of his vision and his plan for achieving what everyone expects of him.
As and when the BJP/NDA forms the government, say on May 17, it will have to face the reality of power, not merely the pleasure of …continued »