Written by
Meghnad Desai
|
Published: November 20, 2016 12:53:51 am
It was all so unnecessary. Why now? There are elections to fight, Parliament was about to resume. It could have been done another day, another year. He had promised that he could fill the pockets of each Indian with Rs 15 lakh from the kala dhan brought back. It was an analogy to explain the size of the problem — Rs 20 lakh crore of kala dhan, based on an estimate by a Parivar research outfit. Yet, a misunderstanding was created. The analogy was read as a promise. His opponents never missed a chance to jibe about this. Many voters thought the money would come to them soon.
You can live with cancer a long time. Ignore the problem till your liver collapses rather than do the drastic things which are necessary. Take it easy. Avoid the pain. There is always tomorrow. But leadership is all about taking risks, taking your followers from the Valley of Despair to the Summit of Hope. If Narendra Modi can be criticised, it is for not indicating how difficult it was going to be for a short while for all citizens, while he slayed the Kaliya Mardan.
Of course, the pain and inconvenience will be temporary, not more than a fortnight. It has only been since Tuesday of the week before last, 12 days today. The inconvenienced are articulate and not used to hardship. They are on Facebook and Twitter shouting loudly.
Remember the tsunami of 2004? It was largely unanticipated. When it came, it was devastating. But the people bravely faced the crisis, were assisted and survived. The tsunami of 8/11 was man-made, by a man named Narendra Modi. It was designed to cut the cancer of black money from the body politic. It could have been easily put off, as prime minister after prime minister did.
The party political system is deeply enmeshed in the black money mess; at every election, crores of currency are found by the Election Commission. Every party does it, but every party pretends to be virtuous. The cancer is infectious. House buying, jewellery or consumer durable purchases, weddings and promotions, election tickets and even top jobs in the business of regulation require wads of cash. We know this. All, unfortunately, are dirtied taking or giving black money.
With hindsight, it could have been done better, but not much. Warnings of hardship could have been more stark. Extra personnel could have been recruited to set up advisory centres across the country to explain and reassure citizens, especially the elderly, that all will be well, their money is safe. But ultimately, the pain was unavoidable. Secrecy and surprise were of the essence. Any leakage and the culprit would have escaped. There is collateral pain. For a few generations, Indian citizens have not been asked to suffer for the national good. This is their chance. It is a day or three while they are short of cash.
For some time, he seemed bold and decisive, but the Prime Minister was risk-averse. He was avoiding the really difficult, unpopular decisions such as labour market reform, which are badly needed. No longer.
The kala dhan has been destroyed. Country is cancer-free. Narendra Modi will be known for 8/11, an event to match Smiling Buddha 1974 and Operation Shakti 1998.
For all the latest Opinion News, download Indian Express App
More From Meghnad Desai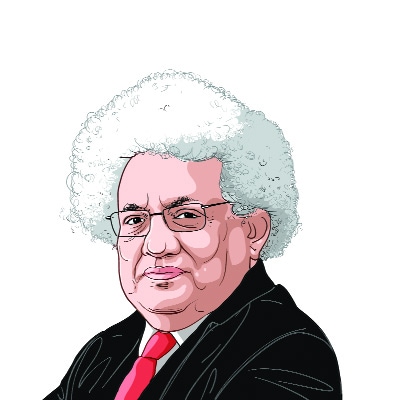 Out Of My Mind: A tragedy

The latest election has confirmed the decline of the Congress. Once again, Narendra Modi and Rahul Gandhi confronted each other. There is no doubt that…

Out of my mind: If only

There is no serious ideological difference left between the two parties, with the Congress repositioning itself as a liberal Hindutva party...

Out of my mind: A milestone

A crusading newspaper and an active vigilant Parliament can bring about radical change. Indian parliamentarians should try it some time. It is better than rushing…