Written by
Leher Kala
|
Updated: May 26, 2014 12:36:22 pm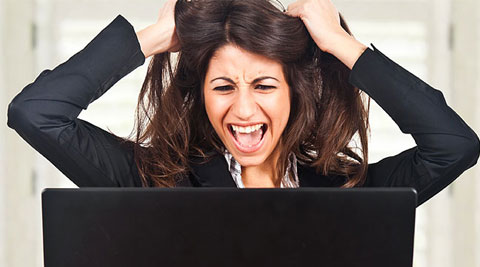 According to a news report, budget airline Spice Jet recently checked up on five crew members who had called in sick, only to find out they weren't at home and their phones were switched off. Threatening immediate termination as a consequence of sick leave abuse, the hyper active HR team went into overdrive since there was information floating about that the crew were allegedly interviewing with a new Gulf airline. And so, very conveniently fell sick. According to company rules, crew members must call the rostering unit two days before and submit a medical document before availing of leave. However, as all HR people already probably know, we live in the free world. If somebody wants to explore job prospects elsewhere, how can you possibly stop them?
When it comes to taking time off, how most employees see it is that reasons for one's absence from work are essentially irrelevant or at least nobody's business if company policy allows us a defined number of days off annually. Paid sick leave days are ours to consume as we see fit. Intimidation and pressure tactics like showing up at people's residences to check out their stories seem embarrassingly infantilising. I don't see how humiliating an employee will help. Working adults generally expect a greater degree of trust and it's unlikely an atmosphere of vitriolic suspicion is ideal for any office. Besides, denying people sick leave irrespective of whether they're ill or not seems a bizarrely desperate way to retain talent, guaranteed to place a company top on a list of lousiest places to work.
People rarely leave organisations solely for more money. They leave for bigger and better opportunities to explore their worth or even for places with a more humane approach towards a work-life balance. Finding and keeping the right people is a huge challenge for every company. The technology giants have gone way ahead of traditional companies on paid leaves of every kind, for example, Google offers men seven weeks of paid paternity leave while Facebook offers a staggeringly generous 17 weeks. In some rare cases, the world has changed for the better.
We all start off in careers with a great deal of excitement; work is fun. It's important to have a sense of purpose and a career that's engaging and one that enables us, somewhat, to make a difference to ourselves and others in the adventure of life. However, job satisfaction depends on so many variables and the reality is the vast majority of humanity absolutely loathes what they do. To quote Mark Twain, "Work is a necessary evil to be avoided." In the strictest sense that's not entirely true, however a philosophical approach to a career really helps. Even if you don't enjoy it all the time it has to be done, and lofty ideas like fulfilment will have to wait. In that same spirit, if an employee is performing, must an occasional goof off be such a big deal? Sometimes, it's just wiser to overlook it and move on.
hutkayfilms@gmail.com
This story appeared in print under the headline People Power
For all the latest Opinion News, download Indian Express App