Northeast to the centre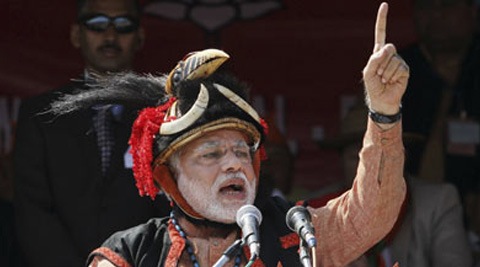 His promise to create BPO jobs in the Northeast and eventually make the region an IT hub on par with Bangalore and Hyderabad is appealing. (PTI)
By: Thongkholal Haokip
With just 25 Lok Sabha seats, India's Northeast has been a largely neglected region in electoral terms. However, in the era of coalition governments, because of the expectation of a fractured verdict in 2014, it has increasingly received political attention. Traditionally, electoral battles in the region have been fought between the Congress and various state parties. Parliamentary seats are usually represented by the ruling party in the states.
In the run-up to the 16th Lok Sabha elections, the importance being assigned by the two main national parties, the Congress and the BJP, to the Northeast is underscored by the schedules of their star campaigners — Rahul Gandhi and Narendra Modi. The Trinamool Congress chief, Mamata Banerjee, has also followed suit and campaigned extensively in the region.
BJP prime ministerial candidate Narendra Modi's campaign in different parts of the Northeast has allegedly created a "Modi wave", as is perceived in other parts of the country as well. But the purported wave may be largely limited to the dissatisfied middle class and business groups of the region, who are expected to gain from Modi's economics, which is apparently focused on employment generation, and the creation of world-class infrastructure in the IT, power and manufacturing sectors. For students and unemployed youths in the region, who are desperate for job opportunities, Modi has struck the right chord. His promise to create BPO jobs in the Northeast and eventually make the region an IT hub on par with Bangalore and Hyderabad is appealing. Modi's vision to harness the potential of the herbal, horticulture and agro-processing industries has also appealed to the business classes in the region. But the pro-Modi sentiment is also a function of the anti-incumbency prevailing in many states.
The Congress, on the other hand, has been pushed to the lowest popularity level in its history because of the corruption scandals that engulfed the UPA government's decade-long rule at the Centre. Congress vice president Rahul Gandhi, who has maintained a distance from the day-to-day affairs of the UPA government, has enjoyed great popularity and appeals to the youth of the region. Yet, despite being the Congress's star campaigner, Gandhi's charm has diminished in the run-up to the elections. He is increasingly identified with the debacles of the Congress-led UPA government. Nevertheless, for certain sections of people, particularly the underprivileged, Gandhi's "feel-good economics" is still attractive. The UPA is credited with having started as many as 80 Centrally-sponsored schemes. These schemes benefit the disadvantaged masses, primarily settled in rural areas. And this is expected to reflect in their voting behaviour.
Apart from the appeal of Modi and Gandhi, there are certain regional factors, which …continued »