No Proof Required: The Gandhis should resign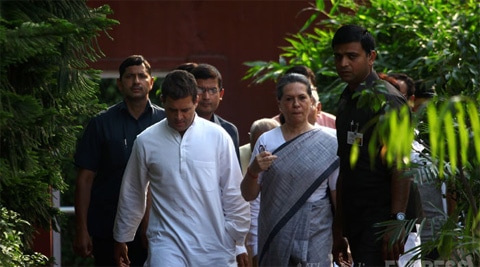 Congress President Sonia Gandhi and Vice President Rahul Gandhi on their way to address the media after its poll debacle. (Source: Express photo by Oinam Anand)
Congratulations to Narendra Modi and the BJP for registering a historic victory not only for themselves but for India as well. This election will be a significant departure from history in several other dimensions as well, as historians and political scientists will discuss it over the coming weeks and months and years. For example, the curtain has not yet been dropped on caste politics, but we are nearer that dream reality.
Mayawati: zero seats; Mandal Lalu Prasad: three seats; Mandal Mulayam's Samajwadi Party: five seats (all figures at the time of going to press). This is the demise of the Mandal politicians and it is poetic justice that Narendra Modi, a lower caste OBC, and one who has never played the caste card, and indeed vehemently argued against it, should be the one to provide a death blow to Mandal politics. The Congress has been saying for ever to just wait and see, and that a week is a long time in politics, but don't bet any of your hard-earned money on caste politics not declining significantly in India's future.
What has nearly ended is communist politics. The Left parties managed to obtain only 10 seats, half their 2009 number, and ended their masquerade as a national party.
But the real political story of this election is the near-complete decimation of the Congress. The party has had two humiliating defeats in the past — the first in the old India of 1977, when Indira Gandhi was punished for destroying institutions, most importantly for destroying the institution of democracy by imposing Emergency in 1975.
The second greatest loss was in 1999, when the Congress obtained only 114 seats. And Election 2014 is witness to the Congress hitting its lowest ever tally, 45. There is more ignominy in this than just the low, low number. This number is barely eight seats more than that of a regional party, J. Jayalalithaa's AIADMK. Just a little bit of push and the Congress could have ended as the third-largest party.
It was refreshing to see Assam Chief Minister Tarun Gogoi offering to resign after his heavy defeat (only three seats out of 14 for the Congress versus seven for the BJP). Unfortunately, at least at the time of going to press, the Congress was still in sycophantic denial. They uttered the usual platitudes — we have seen defeat before, we have bounced back, we have full faith in the High Command, etc.
The reality is that the Congress as we have known it, and have loved and hated it, is destroyed, and it is the political death of the Nehru-Gandhi dynasty. When will the leaders realise that feudalism …continued »