National Interest: Main hoon aam patrakar
No point asking why Kejriwal is threatening the media. Where were the questions when he was playing them?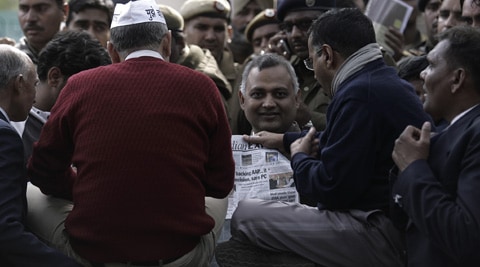 Kejriwal says he doesn't read us. But our photographers caught him, on dharna, poring over what else but 'The Indian Express'. (IE Photo: Praveen Khanna)
Having plagiarised the Aam Aadmi Party's trademark, why don't I borrow their cap as well. Except, I am not sure what I will write on its other side. To say, like the AAP, mujhe chahiye poorna swaraj, would be an overkill. Because while anybody would love to be a martyr, the fact is I cannot ask for any more journalistic freedom than I already have now in India. We have had our  weakest Central government ever. It follows that others have moved into the power space vacated by it. The judiciary, NGO (or once-upon-a-time NGO) activists and, indeed, we the media, or aam patrakars. We have never been more influential or, cut the euphemism, powerful in India's history as now. We have also never been abused like this: corrupt, sold to corporates, to Congress, BJP, AAP, Modi, Kejriwal, 10 Janpath. Nothing newsy about that either. Shoot-the-messenger is as old a principle  as politics. It is also nothing that we should complain about. It is a little medal of honour. Of course, abuse is not nice, but it is much less worse than breathless praise from those in power, or hankering after it.
That's why many of us have been left confused and disappointed by the volley of abuse from the AAP, with which most of us (not this paper, I confess honestly, and with satisfaction) have had a lovefest going for over three years, beginning with the Anna movement. As we wince now at being called thieves and thugs and promised a ticket to jail by the very leaders who hailed us as comrades-in-arms, who would never fail to thank the media for "its support" every time they broke a fast, called off a dharna claiming success, and when they nearly won the Delhi election on their debut, we have a valid reason to ask what has gone wrong. Those who extolled us 24×7 are now holding us responsible for all their problems. They have also given us something unprecedented: a press conference on live TV to call us aam patrakars everything but ISI agents. If you are a reader of Tintin comics like me, it is the equivalent of a high "spirited" Captain Haddock throwing all his favourite abuses at you except "vegetarian".
BUT let's not trivialise. There is nothing so Tintin-ishly funny when the head of the party with the largest-ever collection of Indian liberals (Prashant Bhushan, Yogendra Yadav, Kamal Mitra Chenoy, even Gul Panag) asks voters to give it  power so it could lock us up in jails. And when we take comfort as Manish Tewari and Ravi Shankar Prasad come out in our defence. When the BJP promises continued…