National Interest: After May 16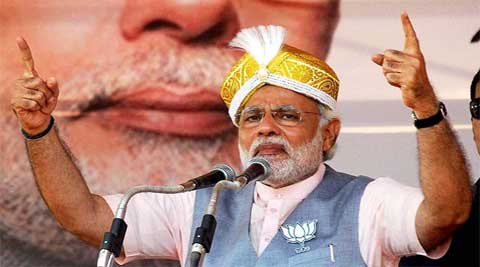 Narendra Modi
One of the deadliest truisms in our business of reading election trends is, never trust journalists with their predictions. But when all journalists agree on the outcome of an election, take it easy. You know for sure that exactly the opposite will happen.
We would only hope this doesn't extend to psephologists as well. Because if it did, you might end up looking very stupid by 11 am on May 16. I shall, therefore, be a coward and confine myself to drawing upon the opinion poll data to predict (yes, predict) lasting shifts in Indian politics. So significant, long-lasting and intense that we could describe them as tectonic. We also know tectonic shifts define the movement of seven such plates that constitute the earth. Let us now play political geologists and read the seismic signals.
First, whatever his tally finally, Narenda Modi would have risen as India's preeminent political personality. This is a first and here is why. Think of any juncture since 1947, and the most powerful political leader was always from the Nehru-Gandhi dynasty. I know you are speed-reading the history of 67 years in your minds, and I can  anticipate your doubts. The period from Nehru's death in May 1964 to Shastri's in January 1966.
The September 1965 war built Shastri into a genuine national icon. But everybody knew even then who the real star of the Congress was. Indira Gandhi may have been just a junior minister for information and broadcasting, but she was always the heir apparent and Shastri a caretaker. In any case, this "break" was for less than 18 months. Second, Indira's defeat in 1977 after the Emergency and the rise of the Janata Party.
Yet, who was the most powerful political figure in India then? Jayaprakash Narayan was in rapid decline by then, physically and politically. The rest in the ruling Janata Party were squabbling subedars, not generals.
Indira Gandhi, in comparison, was a political field marshal. The third, and probably more arguable, would be the first half of the Narasimha Rao reign. Even then, as Arjun Singh's intrigues and later open rebellion showed us, the real power was to return inevitably to Sonia Gandhi.
Rao defied it but paid for this foolhardiness. He was sent to the doghouse to fight his cases alone, and then denied, in death, the elementary dignity of a stop at the AICC headquarters for his funeral van and a cremation spot along the Yamuna in Delhi. You want evidence of how brutally it was done, check out my friend and former colleague Sanjaya Baru's The Accidental Prime Minister: The making and unmaking of Manmohan Singh (pp 72-73). Atal Bihari Vajpayee ruled for six years, but never owned his party as Sonia did.
THAT is why the rise of Modi marks the shifting of the largest tectonic plate. He is the first non-Dynasty leader to acquire this domineering stature, the only non-Brahmin and also the first never to have been …continued »