Myth of moderation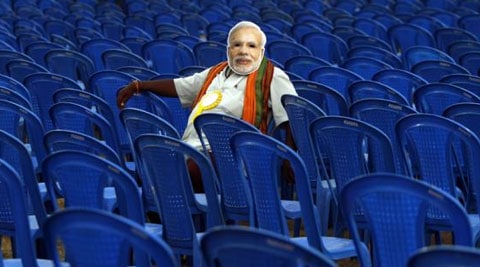 In their quest for power in a democratic arena, exclusivist parties are more likely to form coalitions with parties which do not share their views. (Reuters)
Political scientists supporting the "moderation thesis" argue that democratic regimes which incorporate exclusivist parties (including those which claim to represent a religious group) in electoral games usually transform them into more moderate political actors. First, when an exclusivist party contests elections, it is bound to dilute its ideology to attract voters outside its core constituency. Second, an exclusivist party generally emerges from an ideological movement displaying a deep sense of doctrinal purity, but it gradually emancipates itself from this matrix. Third, in their quest for power in a democratic arena, exclusivist parties are more likely to form coalitions with parties which do not share their views.
This theory applies to the Hindutva forces up to a point. In the 1960s and '70s, the Jana Sangh diluted its all-Hindi policy in order to attract voters beyond north India. It even accepted the redrawing of the Indian map according to the linguistic criterion, in spite of the fact that the RSS had originally wanted to abolish linguistic states because of "their dangerous potential for secession" (The Organiser, January 24, 1956).
Simultaneously, the Jana Sangh developed a new interest in socio-economic issues in order to speak to "the common man" — a formula that party president Atal Bihari Vajpayee used systematically in the early 1970s.
But the Jana Sangh continued to mobilise voters by deploying Hindu symbols, as evident from the anti-cow slaughter movement of 1966-67, intended to help the party in the 1967 elections. The party joined hands with the VHP and thousands of demonstrators gathered around Parliament to persuade the MPs to pass a law prohibiting cow slaughter. As determined activists stormed Parliament, the police intervened and killed eight of them, who then became the martyrs of the cause.
The BJP repeated the same strategy during the Ayodhya agitation of the late-1980s and early-1990s, with the pre-election Ram Shila movement of 1989 and L.K. Advani's Rath Yatra in 1990. This agitation, which had been unleashed, once again in conjunction with the VHP, resulted in an unprecedented number of communal riots across the country. It polarised Indian society along religious lines and consolidated the Hindu vote, which Balasaheb Deoras, RSS chief from 1973-94, had decided to promote in 1979, after the split in the Janata Party and the formation of the BJP. Deoras had then declared: "Hindus must now awaken themselves to such an extent that even from the elections' point of view the politicians will have to respect the Hindu sentiments and change their policy accordingly" (Hindu Vishwa, March 7-8, 1979).
The moderating effect of the democratic game was clearly neutralised by the polarisation strategy. BJP electoral campaigns have always oscillated between …continued »