Modi leaves himself room on Pakistan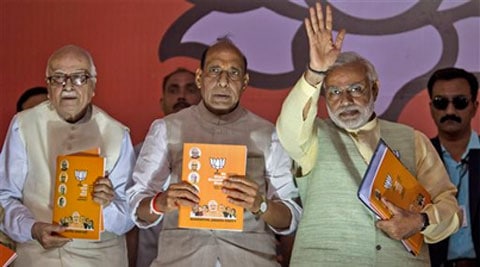 The BJP certainly refers to increasing terror attacks in India by "Pakistan backed terror groups" and affirms "zero tolerance towards terrorism". (PTI)
The BJP manifesto released today leaves some room for its prime ministerial candidate Narendra Modi in the conduct of India's relations with Pakistan, one of the most challenging accounts of the nation's foreign policy.
By avoiding inflammatory rhetoric on Pakistan in the manifesto, the BJP has sought to dampen the speculation around the world that Modi's leadership of India will lead to an inevitable confrontation with Pakistan.
For the moment, it would be unwise to assess Modi's approach to Pakistan by using the traditional metrics of India's domestic political discourse. After all, Atal Bihari Vajpayee, a leader of the 'Hindu nationalist' BJP traveled to Pakistan twice in his six year tenure as prime minister. Dr. Manmohan Singh of the "secular" Congress Party could not get himself do that journey even once in his ten long years as the PM. If the Congress party has self-imposed constraints on its Pakistan policy, the BJP allows a bit of flexibility to the prospective Modi government.
Prime Minister Manmohan Singh's diplomacy towards Pakistan in the second term of the UPA has been weighed down by the terror attack on Mumbai at the end of November 2008. Over the last few years, he struggled to strike a balance between the need to get the plotters of the attack to justice and the unavoidable imperative of engaging Pakistan.
The Congress Party's manifesto highlighted this dilemma by stating that it will "calibrate the dialogue" with Islamabad to the "delivery on accountability for 26/11 as well as dismantling of the infrastructure of terrorism on Pakistani soil".
The BJP certainly refers to increasing terror attacks in India by "Pakistan backed terror groups" and affirms "zero tolerance towards terrorism". At the same time, it asserts that India "will pursue friendly relations" in the neighbourhood. It also insisted that "where required we will not hesitate from taking strong stand and steps", without elaborating on what they might be. The BJP also argued that peace in the region "is essential for South Asia's growth and development". It accused the UPA of presiding over a drift in India's relations with the neighbours.
This broad framework, of course, lets Modi, if he indeed becomes the next prime minister, to make a fresh start with Pakistan on the nature and terms of a future dialogue. That of course has never been easy, especially when it comes to the connection between cross-border terrorism and dialogue with Pakistan.
Across the border in Pakistan there are competing views about Modi. His negative image as a 'Hindu extremist' and a 'Muslim-baiter', some argue, would significantly limit the freedom of the civilian leaders in Pakistan to embark on purposeful dialogue with Modi. Others in Pakistan believe that as a strong leader Modi, much …continued »