Inside Track: 'Priyanka lao'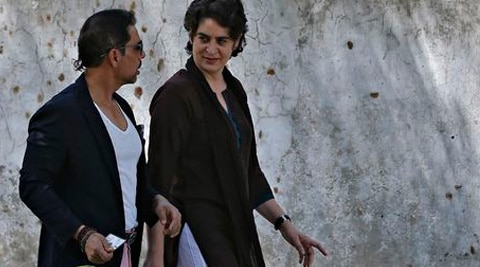 Priyanka Gandhi Vadra and her husband, Robert, after voting on 10 April at a polling station in New Delhi. ( Source: Reuters )
On counting day there were some demonstrators on the lawns of the Congress headquarters in Delhi demanding that Priyanka Gandhi be brought in to save the party. One of the people carrying a placard endorsing her entry into politics was Jagdish Sharma, a controversial buddy of Robert Vadra who got membership of the prestigious Delhi Golf Club thanks to Vadra's influence. Congresspersons are wondering whether he reflects the views of Priyanka's husband.
Not necessarily IFS
Retiring National Security Adviser Shivshankar Menon believes the NSA's job requires experience in diplomacy, security, defence and nuclear affairs. Which gives those from the IFS cadre an advantage. But the man who is the odds-on favourite to be selected NSA in the new regime is Ajit Kumar Doval, an IPS officer who was once director of Intelligence Bureau. Doval handled the Punjab and Mizo conflicts and was active in Kashmir as well. He was posted for six years in Pakistan. After his retirement in 2005, Doval set up the Vivekananda Foundation in Delhi. The foundation focuses on national security, international relations and neighbourhood studies. Doval is considered close to L K Advani. However, there is another view in the party that the NSA should be replaced with a ministry of internal and external security.
Speaking out of turn
Contrary to media reports, there has been no request so far either from the Modi camp or the BJP president that Advani take up the post of Lok Sabha Speaker. The party is reportedly not looking for any extra-constitutional role for the senior leader either on the lines of the chairperson of National Advisory Council, a post created for Sonia Gandhi by the UPA. Advani's tendency to blog his spontaneous thoughts, which are often uncomplimentary to his party, has made the BJP wary about where to accommodate him. On his part, he shows no signs of calling it a day.
Modi's people
The corridors of power in Delhi are abuzz with speculation as to who will be the new favourites in Narendra Modi's court. Two names doing the rounds are Rakesh Asthana, a Gujarat-cadre IPS officer who is Police Commissioner, Surat, and Vijay Laxmi Joshi, a 1978 Gujarat-cadre officer who is Special Secretary, Ministry of Commerce. The former, who investigated the Godhra train burning case, is tipped to get a posting in the CBI as additional director while Joshi could be promoted as commerce secretary. During her postings in Gujarat, she has worked in the power sector and dealt with the Adani Group.
A miscalculation
Last year, when Modi's name was announced as the BJP's prime ministerial candidate, Rahul Gandhi's youth brigade, including Jitin Prasada, Sachin Pilot and R P N Singh, was jubilant. Modi, they believed, …continued »