Inside Track: Patel's new office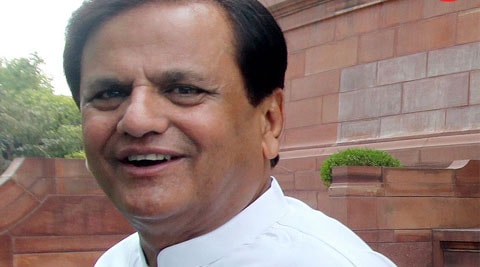 In Delhi, Patel prefers to work from his residence at 23, Mother Teresa Crescent.
Sonia Gandhi's political secretary Ahmed Patel inaugurated a swanky Congress office in his hometown Bharuch in Gujarat this week. A special room has been reserved for Patel in the office. In Delhi, Patel prefers to work from his residence at 23, Mother Teresa Crescent. Gujarat Congressmen wonder whether the new workplace reserved for Patel means he will be spending more time in his home state after the polls if there is a change of guard in the party with Rahul Gandhi taking over from his mother as party chief. Another theory is that Patel plans to groom son Faizal for politics.
Focus on President
In case election results on May 16 throw up a hung Parliament, the focus will be on President Pranab Mukherjee. Some 350 news channels have sought permission to set up their camera teams on the lawns of Rashtrapati Bhavan from May 16 onwards. In preparation for the media onslaught, Rashtrapati Bhavan is planning to erect a shamiana in the forecourt and make arrangements for air coolers and water bottles.
Unofficial envoys?
Kashmiri separatist leader Syed Ali Shah Geelani's claim that emissaries from the BJP had met him to talk about the situation in the Valley may have been dismissed by the BJP, but there is usually no smoke without fire. It is believed that the emissaries were acting on their own initiative or at the say-so of the RSS and did not have the clearance of Narendra Modi. A month ago, a BJP MP and an RSS functionary visited Islamabad on a study tour. Both  Pakistan's foreign ministry and the country's security advisers opened their doors to them on the assumption that they had their party's official approval .
Mystery writer
Publishing circles are puzzled as to how London-based British author Andy Marino managed to gain access to the BJP's PM candidate and write Narendra Modi: A Political Biography. Marino claims to have travelled to campaign rallies with Modi and interviewed him several times. Marino, who is a PhD in English literature and a filmmaker, has written two other biographies. One is on Varian Fry, a journalist who is said to have helped many European artistes and intellectuals escape Nazi-controlled Europe, and the second is on Herschel Grynszpan, a Polish German Jew who assassinated a German diplomat in 1938. With the Modi biography, Marino hopes to make a better impact than he did with his other two books. The BJP is distributing copies of the biography, which was released last month, to foreign journalists.
Powerful links
While the BJP is quick to dismiss the Congress's chances in Uttar Pradesh outside the Amethi-Rae Bareli belt, it is willing to concede privately that there is one UP constituency, Unnao, where the Congress has an edge. The Congress's Annu Tandon is standing for re-election here. The Aam Aadmi …continued »