Inside track: Number game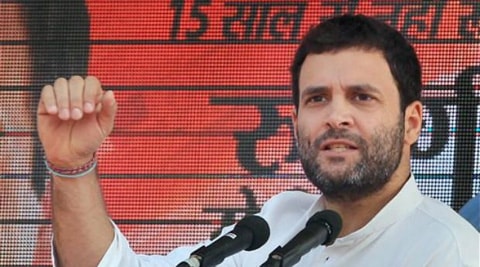 Rahul Gandhi (PTI)
Congress candidates for the parliamentary election have discovered that there is a cash crunch in the party. In the earlier two polls, getting money for campaign was a simple procedure. A request was sent to Ahmed Patel, who cleared the amount, and it was forwarded to party treasurer Motilal Vora, who disbursed the amount. But this time there are conflicting signals with candidates being given the run around between numbers 10, 12 and 23. (It's a common Congress practice not to mention the names of leaders whose offices they are referring to, but simply give the number of their houses.)
The three crucial addresses being 10 Janpath (Sonia Gandhi), 12 Tughlaq Lane (Rahul) and 23 Willingdon Crescent  (Ahmed Patel). There is also confusion in the selection of candidates. While people in number 12 claim that they call the shots, numbers 10 and 23 seem to have more of a say in the actual selection. This is because number 10 asks the opinion of old guards, including Ghulam Nabi Azad, Ahmed Patel, Ambika Soni, A K Antony and Janardhan Dwivedi, before deciding on a candidate.
Caste a vote
Narendra Modi's right-hand man Amit Shah was the first from the BJP to break the mould to play the caste card in Uttar Pradesh. When Shah first arrived in Lucknow to head the party's Uttar Pradesh campaign, he mentioned that Modi was an OBC. Modi was so upset that he scolded Shah for 15 minutes for raising the caste issue. The RSS rails against caste divisions in Hindu society. But the caste card was such a success that now even Modi occasionally brings up his caste origins in eastern UP and Bihar.
Past forgotten
The Congress began its advertising campaign in January and reportedly spent around Rs 400 crore in the first round of advertisements for Rahul Gandhi. The BJP started in March but it has already outdone the Congress. Ads seeking votes for Narendra Modi are far more visible in the media. The Congress now has a shortage of funds and is regretting its first flush of ads which, many feel, did not convey the message effectively. One complaint is that the Rahul ads are in black and white and look like government hoardings that do not catch the eye unlike Modi's colourful posters with kurtas in different hues. Many senior Congressmen are perturbed to find that the ads centre around only Rahul. In the past the party tradition was to focus on the illustrious Gandhi family and photographs of Indira, Rahul and Sonia were prominent. In the BJP too the campaign has omitted pictures of party stalwarts like Atal Bihari Vajpayee, L K Advani and Rajnath Singh. But in the latter case the strategy seems to be working.
No Priyanka, as yet
The curious remark by Janardhan Dwivedi that Rajiv Gandhi had appreciated his daughter Priyanka's political acumen way back in 1990 has created a buzz in the Congress. Particularly as it …continued »