Inside Track: Not so welcoming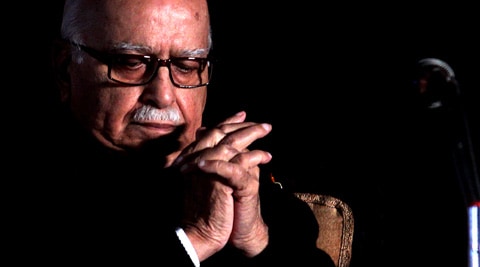 Advani was not invited to major functions in Gujarat and the party machinery was no longer at his disposal when he visited. (IE)
L K Advani wanted to switch constituencies from Gandhinagar to Bhopal because he could sense that the Gujarat BJP, under Narendra Modi's leadership, was not very  welcoming and made him feel like an outsider. He was not invited to major functions in Gujarat and the party machinery was no longer at his disposal when he visited. Photo opportunities were not arranged when he visited Gandhinagar. The most obvious snub was that when the party headquarters moved to a swanky new building near Koba on the outskirts of Ahmedabad, there was no space allotted for the senior leader. Advani's office continues to work out of the old BJP headquarters in Khanpur area of old Ahmedabad.
Considerable clout
In 2004, a senior Finance Ministry official noticed that Arvind Kejriwal, a joint commissioner of income tax, had an appalling record of absenteeism. When asked for an explanation, Kejriwal said that he was working for an NGO called Parivartan which helped Delhi's citizens deal with their problems relating to income tax, electricity and food ration. The bureaucrat suggested that if he was so interested in fighting corruption, he should start with the Income Tax department, to which Kejriwal reportedly said that he was interested not in fighting minor corruption but corruption at a national and international level. Taken aback, the official gave Kejriwal a very bad appraisal.
No-dues certificate
Sitting MPs are rushing to ensure that they have cleared their dues — house rent, electricity, MTNL bills, etc — before filing their nominations for re-election. They also have to ensure that they have returned their computers issued by the Lok Sabha Secretariat and any books borrowed from the Parliament library. The MPs need to submit a 'No-Dues' certificate before their nomination forms can be accepted. The rule came about after a large number of MPs defaulted on returning their laptops and clearing their phone bills.
False rumour
The Congress was taken aback when Narendra Modi announced he would be fighting  from Vadodara in Gujarat. The Congress had been planning to put up a strong candidate against Modi, but its hands were tied in Vadodara because the primaries ordered by Rahul Gandhi had thrown up a weak candidate in this constituency — Narendra Rawat, the party's city unit president. Modi had caught the Congress off guard, with the rumour that he would be standing from Gandhinagar or Ahmedabad East.
C R Park candidate
During the brief Mamata Banerjee-Anna Hazare partnership brokered by Santosh Bharatiya and Mukul Roy, it was agreed that Hazare would choose all the Trinamool nominees for the Lok Sabha seats in Delhi. But when Mamata was left facing an embarrassingly empty Ramlila ground in Delhi after Hazare stayed away from the joint meeting, she …continued »