Inside track: DD wakes up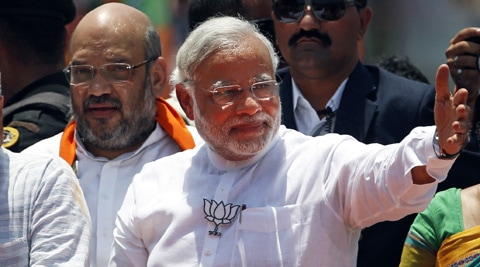 PM-designate Narendra Modi. ( Source: AP )
A cultural organisation, Divinity Series, organised a three-day Bharatanatyam dance performance in September last year in Delhi and signed a contract with Doordarshan to telecast the shows on DD Bharati. The chief guest on the first day was outgoing HRD Minister M M Pallam Raju. On the second day, L K Advani, the chairperson of the NDA, presided.
On the third day, Narendra Modi, the BJP's prime ministerial candidate, was the main speaker. The programme was telecast live on the first two days by Doordarshan but the third day's programme, including Modi's speech on art and culture, was not shown. When organiser Deepak Shourie complained, he was told that there were several technical hitches. But with the change of government at the Centre, the technical problems have been mysteriously resolved and DD is now contemplating re-running the entire three-day festival, including Modi's speech.
Fastest to protest
When Sonia Gandhi offered her resignation at the Congress Working Committee (CWC) last week, the three Congresspersons who were quickest on the draw in rejecting the suggestion were family retainers R K Dhawan, Makhan Lal Fotedar and former Chhattisgarh chief minister Ajit Jogi. Protesting vigorously, Jogi said his ears refused to even hear of such a suggestion.
It was only after a second or two that the rest of the CWC members hastily joined the chorus of protests. In the family-dominated party, such instant gestures of loyalty are duly noted with appreciation. Incidentally, Rahul favourite Jairam Ramesh, who has in the past been invited for such meetings, was missing, indicating that the fortunes of the party vice-president's nominees are declining.
Feeling the pinch
LAST week, outgoing Prime Minister Manmohan Singh's wife Gursharan Kaur went slipper-shopping in upscale Khan Market. Kaur apparently hadn't accounted for the inflation in her husband's regime. She was taken aback that the slippers she wanted to buy were priced at Rs 2,400. She settled finally for cheaper footwear, which was not imported.
Red herring
Amit Shah was amazingly accurate in predicting voting trends in favour of the BJP in Uttar Pradesh and even elsewhere in the country. But for a man who was so clued in, he was way off the mark in insisting that the BSP would be the No. 2 party in the state after the BJP. Mayawati's party drew a blank and cynics suggest that the BJP in-charge for UP deliberately floated the rumour of the BSP's better performance so as to confuse Muslim voters. Shah thus succeeded in dividing the minority vote.
Ignoring advice
During the last days of the campaign in UP, Amit Shah got a feedback from Amethi that the mood in the constituency was quite unfavourable towards Rahul Gandhi. Since the Congress seemed unaware that Rahul was on a weak wicket, Shah urged Smriti Irani not to bring this to public notice.
Shah sent the BJP candidate from Amethi several e-mails urging her to keep away from journalists. But Irani …continued »