Inside Track: 220, Laxman Rekha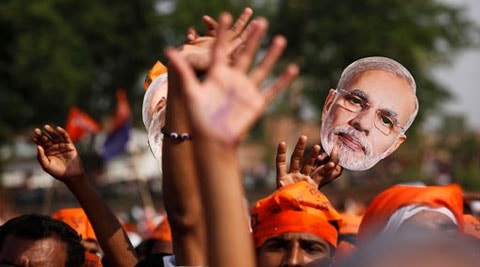 The BJP's designated alliance negotiators will be on alert on May 16 if the NDA falls short of the 272 mark. (AP)
Senior Congress leaders consider 220 as the threshold figure for government formation. Their assessment is that if the NDA wins more than 220 seats, it will be impossible to stop Narendra Modi from forming a government. If the NDA total is lower, the Congress believes that it will be worthwhile exploring the possibility of a third front government backed by the Congress. Rahul Gandhi is, however, not interested in power politics. He wants to devote the next five years to rebuilding the party organisation and sitting in the opposition.
Parking Problem
Whichever part of the country he addresses campaign rallies — and he clocks an average 1,100 km a day — Narendra Modi always returns home to Ahmedabad by nightfall. The reason for this is not home-cooked food or the need to sleep in his own bed. It is because, if he is not in Ahmedabad, the nightly parking fees of the aircraft in which he travels would be astronomical. Modi usually travels in an Embraer aircraft from the Adani Group's Karnavati Aviation. All planes of this airline are parked in Ahmedabad so there is no need to pay hefty parking fees. Instead of home-cooked meals, Modi often has to make do with endless cheese sandwiches. Some have commented on his increased girth on the campaign trail.
Modified Dissent
When she first came to campaign in her Vidisha constituency, Sushma Swaraj refrained from mentioning Narendra Modi in her poll speeches, referring instead to only Madhya Pradesh Chief Minister Shivraj Singh Chouhan. But that changed after Swaraj discovered she was not as comfortably positioned as she had assumed. Voters were upset that she had ignored her constituency. Swaraj decided she needed all the help she could get and had per force to use the M word in her speeches. A similar turnaround took place in Kanpur, where Murli Manohar Joshi was initially peeved about not getting a ticket from Varanasi. Party workers took to chanting "Modi, Modi" during all of Joshi's speeches to send home the message that Modi was the real vote-getter. L K Advani, another Modi detractor, also surrendered to the Modi juggernaut. In Sultanpur, however, Varun Gandhi held out in the belief that he could win on his own without invoking Modi.
Not Cricket
BJP leaders had it conveyed to NCP chief Sharad Pawar that they would consider it a favour if he advised the UPA government against setting up a judicial inquiry on snoopgate at this late hour. Pawar was ready to oblige. He even roped in fellow BCCI member Farooq Abdullah to join his plea. The government decision to do away with the probe was finally taken after President Pranab Mukherjee sounded a word of caution …continued »