How not to run a programme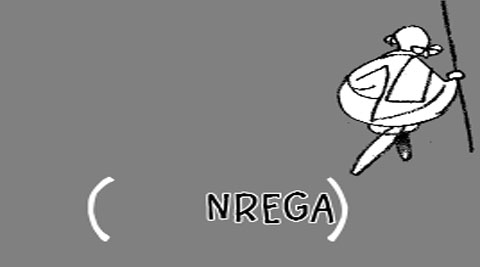 This scheme smacks of the Congress's disregard for rules and good governance.
MGNREGA is beset with failures of planning, execution, monitoring and accountability.
This election season, we have seen the BJP seeking the people's mandate on the slogan "sab ka saath, sab ka vikas". The Congress harps primarily on a "we gave you" list. The first in this list is the Mahatma Gandhi National Rural Employment Guarantee Scheme (MGNREGA).
The 11th Five Year Plan recognised that 30 crore people lived below the poverty line. It was felt that the MGNREGA could be an instrument of rapid poverty reduction during this plan period (2007-12). It was designed to provide "…short-term employment on public works to unskilled workers." The Plan document was clear and specific: "…based on the premise that in areas with high unemployment rates and underemployment… can prevent poverty from worsening during lean periods of seasonal unemployment."
Through an act of Parliament, this scheme was enforced in 200 districts from February 2, 2006. The first performance audit report by the Comptroller and Auditor General of India (CAG), covering the year ending March 2007, was readied in 2008. It is not clear if any action was taken on the several specific shortcomings and failures flagged in the report of the CAG. With elections to the Lok Sabha in 2009 clearly in mind, the scheme was expanded to cover all rural districts by April 1, 2008. In brief, it aimed to provide a minimum of 100 days of work to adult members of every household who volunteered. "Such work was to be provided at minimum wage rates, within a radius of 5 km of the village…"
On April 23, 2013, a performance audit of the MGNREGA by the CAG was laid on the table of Parliament. Covering the period April 2007-March 2012, this is the second performance audit report. This report covered 3,848 gram panchayats (GPs) in 28 states and four union territories.
Before we get into the CAG's observations, it may be relevant to note that the GPs are the principal implementing agency. The scheme emphasised community participation in planning, implementation, social audit and transparency. Emphasis was on labour-intensive works for water conservation, drought- and flood-proofing as priority works to be undertaken. It banned the use of contractors.
In February 2013, the ministry of rural development stated that, up to December 31, 2012, the total actual expenditure on the scheme since its launch is Rs 1,92,322.33 crore. In the budget of 2013-14, another Rs 33,000 crore was allocated for the current fiscal.
As a flagship programme, thanks to political commitment and abundant funds, this scheme ought to have stood out for full preparedness, effective implementation and optimum utilisation by the beneficiaries. These were the worsening years of the UPA's jobless growth and, given the demand-based nature of seeking work, the MGNREGA would have actually provided the necessary succour to the unskilled rural poor, we …continued »