Hearing the silence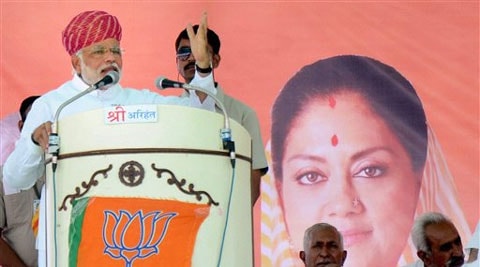 Inevitably, the key question is: what will bury the ghosts of the 2002 Gujarat riots? Modi has not been found legally culpable, but political responsibility is another matter. PTI
Modi has not fully addressed anxieties on minority rights, freedom of expression.
The extraordinary rise of Narendra Modi calls for historical and comparative reflection. We need to pause and ask what yardsticks one should deploy to assess his candidacy to lead the nation.
Since India is democratic, one should turn to a question that observers of democracy inescapably ask: how should one judge the democratic credentials of a leader, a party, a campaign?
After more than a century of intellectual deliberation, three core principles of democratic judgement have emerged: popular will, minority rights and freedom of expression. Economics and national security, hugely important, cannot be wished away and many voters might view them as decisive. But for democratic theory, economics and national security are instrumental, not constitutive. Just as an economy is judged primarily economically, a democracy is assessed mostly politically. At its heart, democracy is a political system, not an economic or national security construct.
The first principle — popular will — is best expressed in voting. In modern polities, voting is the only way to establish claims to rule. By this principle, Modi has a legitimate democratic right to rule if the NDA wins on May 16.
But vote is only one dimension of democratic judgements. After all, voting can easily produce majoritarianism, recognised as a danger to democracy since World War II. The background of this development is well known, but worth noting in brief. A plurality of votes brought Adolf Hitler to power in Germany in 1933, which he used as a licence to mount the worst persecution of minorities the world has ever seen. The Jewish minority was brutally attacked, interned and killed. Since then, the intellectual community has systematically delinked the idea of democracy from the idea of majoritarianism, and put minority safeguards in place.
Although the world has not witnessed anything like the Jewish genocide since World War II, substantial dangers remain. Consider Sri Lanka, where elections have regularly taken place since the 1950s. But after the late 1950s, democracy came to be associated with Sinhala majoritarianism. The Tamil minority was increasingly marginalised. In the early 1980s, a nasty civil war broke out, lasting nearly two and half decades.
Is Modi committed to minority rights? Comparisons with fascism, often made, are too facile. India simply does not have the conditions of 1930s Germany. But will he take India towards a Sri Lankan-style majoritarianism? This is a more relevant question.
Ground-level reports suggest deepening Muslim anxiety about the prospects of Modi coming to power. Modi can rightly argue that his campaign, by and large, has been devoid of anti-Muslim rhetoric. He can …continued »