Gujarat's growth for growth's sake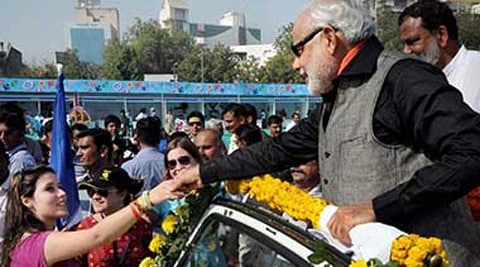 Gujarat Chief Minister Narendra Modi shakes hand with a foreign participant during International kite festival at Sabarmati River front in Ahmedabad . File photo/ PTI
Data shows that the state is high on growth, low on development. What does this say about the government's priorities?
No matter what the political leanings, many people have come to accept the premise that Gujarat has performed a lot better than the rest of India in terms of development over the last decade. People are even talking about the Gujarat model of development as something for the whole country to emulate. The backwardness indices of states computed by the Raghuram Rajan Committee (set up to come up with a formula to allocate the Centre-to-states funds) seemed to place Gujarat somewhere in the middle of the pack; a total surprise given the common perception.
First, we will take a look at Gujarat's growth performance and then examine to what  extent the growth has resulted in "development".
Clearly, Gujarat has done very well in terms of growth in every sector. There are a few states that have done better in individual sectors, but mostly they are small states like Sikkim, Chhattisgarh, Manipur, Mizoram and Uttarakhand, where a small increase ends up being a big percentage change. Among the rest, Gujarat is at the top in terms of growth. Gujarat's performance in agriculture is especially noteworthy.
Growth is a means to an end and the end is development. Development means less poverty, better education, better healthcare, and better access for more households to water and proper sanitation. Development means laying the groundwork for a better tomorrow.
Let us first look at the main development indices. Since we are concerned about the performance of Gujarat relative to that of the other 27 states, we will look at Gujarat's rank among 28 states.
The first thing to note is that the composite performance index computed by the Rajan committee, which gives equal weight to the improvement over the last decade or so in each category of backwardness such as education, health, household amenities, places Gujarat 14th among 28 states. For more details.
Despite the fact that Gujarat grew faster than most other states during the decade of 2001-11, its per capita expenditure is not only not at the top of the chart but has slipped further to the 12th position. Equally surprising are its ranks in, one, the extent of poverty and, two, in female literacy: they are smack in the middle of the list at 14th and 15th respectively, showing no improvement by 2011-12 despite fast growth. It does show some improvement in its ranking for "Infant Mortality Ratio" from 19th to 17th, though the record of being in the lower half of the class is still disappointing for such a fast growing state.
Gujarat is known for its roads. …continued »