flip side: Individuals and issues that are making and shaking news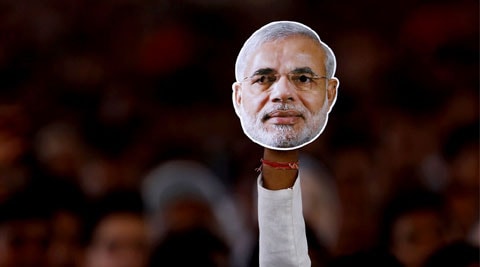 A collection of Narendra Modi's Gujarati poems will be translated into English and published next month. (Reuters)
A man of many talents is Narendra Modi. We are now reliably informed that he has a wife and a life, which includes writing poetry. A collection of his Gujarati poems will be translated into English and published next month. His most recent poem may not be in that compendium, since it could violate the Election Commission's code of conduct. Based on T S Eliot's famous poem, The Waste Land, Modi has penned his own version to suit the times. Here are exclusive extracts:
Wasteland to Wonderland
(by Narendra Modi)
April is the cruelest month, breeding
frauds and starlets out of the dead land, mixing
mystery and desire, stirring
dull platforms with oratory and spin.
Elections bring us alive, covering
campaigns in forgetful abuse, feeding
into TV channels need for guests screaming
At one another while Mulayam wants rapists to go free.
Under the shower of rhetoric; we become unafraid
to make accusations and character assassination,
Why should I care? By May I will be the PM,
with a mandate to change Wasteland to Wonderland.
When we were children, I took a sacred vow,
to give up worldly pleasures and marital bliss,
I was never frightened. Even in khaki knickers,
I sold tea, married Jashodabhen, but was wedded to
an ideology.
I went to the mountains, where you feel free.
I read, wrote, and dreamed of khushboo Gujarat ki.
Where flowers like the Lotus will grow
Out of stony soil and rubbish dumps. Dreams of one man,
You cannot guess, how much they can achieve,
When people reject the broken images, taken in 2004,
And gave me a second mandate, and then a third,
for me to turn dry stone into Narmada water. Now
There is prosperity and peace and with a little snooping,
I find that everyone's happy; women are protected,
And my state is something different from the others.
The Gujarat model is the one to follow, leave the lies behind you
Or someone or something will rise to meet you;
And deliver a slap or three in the face of the false prophets.
Like Kejriwal, the AK 49, who on his website
gives away J&K to Pakistan. Or Mamata,
That wayward woman who talks of poriborton.
Instead, she slipped on the wet floor of vote bank politics,
and now she needs a Bada masterji in Delhi,
to make her fall in line. Even that Shehzada
needs a Bada masterji because he really knows nothing;
On one side a foreign mother, the other side silence.
Unlike him, I have not come to cry and complain
I am here with a resolve to wipe away your tears
and build a temple or two. I am no clairvoyant
but I promise to bring back black money,
from all those banks and tax havens in Europe,
With a zero tolerance for corruption. And GST,
I will revive the economy, using the Five T's —
Talent, Tradition, Tourism, Trade and Technology,
These are pearls that UPA had ignored, they
were only interested in Gold, or Coal and 2G.
The lady …continued »