Failing Shahid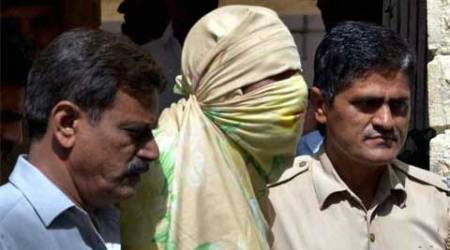 The continuing arrests of innocent Muslim youth in terror cases and seemingly absolute impunity enjoyed by law enforcement agencies, has become a major issue for the Muslim community. ( Source : PTI/File )
The best actor award to Rajkumar Rao for his performance in the film Shahid at the 61st National Film Awards most tellingly framed the schizophrenia in the UPA's politics and policies towards Muslims.
While the reel depiction of lawyer Shahid Azmi's life and struggle was honoured with a national award, this government didn't show any empathy for the real Shahid or his work. Shahid Azmi was a 32 year-old lawyer who sacrificed his life fighting the arduous legal battles of dozens of innocent Muslim men arrested and framed as terrorists by this very government. He was murdered because his assassins wanted to prevent the truth from being exposed.
Here is how the outgoing government was Janus-faced.
On July 11, 2006, seven trains in Mumbai were rocked by a series of blasts, which killed 187 persons. Between July 20, 2006 to October 3, 2006, the anti-terrorist squad (ATS) of Maharashtra Police arrested 13 people and claimed to have cracked the case. The ATS claimed that these men confessed to their crime after their arrest. A chargesheet was filed on November 29, 2006. But in November 2006 itself, all the accused filed written submissions to the court, saying confessions were coerced from them under severe custodial torture and that the ATS was falsely implicating them.
Two years later, Mumbai Police arrested five alleged Indian Mujahideen (IM) men and claimed they were responsible for the July 11, 2006 Mumbai blasts. The arrest of this new set of men, allegedly belonging to the IM, for their involvement in the July 2006 Mumbai train blasts case by another wing of the Maharashtra Police put a question mark on the credibility of the entire investigation.
Call data records (CDRs) produced before the special MCOCA court hearing the Mumbai train bombings case have indicated that the phones belonging to three men accused of planting bombs, Ehtesham Siddhiqui, Faisal Sheikh and Asif Khan Bashir Khan, were actually nowhere near the site that day. The Maharashtra ATS had relied on CDRs to prove the links of the July 2006 Mumbai train blasts accused with the Lashkar-e-Toiba on seven occasions to seek their custody in magistrate courts. The ATS had consistently refused to produce the CDRs and even claimed that it had destroyed the records.
Another intriguing twist was that two of the 13 accused, Mohammad Ali Alam Sheikh and Asif Bashir Khan, were framed by the ATS in another case for which a fresh set of people was later indicted — the Malegaon blast of September 8, 2006. NIA investigations have since held a Hindu terror module responsible for that strike. All the accused are languishing in jail, and the government even today continues to support the obviously flawed and inconsistent police narratives.
Shahid was the first to stand up for these …continued »