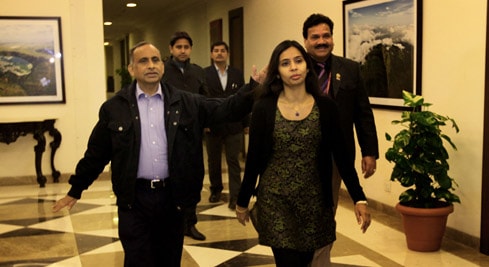 The distinction sought to be made between official
and private activities with regard to consular immunity is patently unfair.
In their line of duty, diplomats are exposed to dangers ranging from slander to expulsion. There is no grievance or compensation mechanism to help them through.
Diplomatic life has never been a bed of roses. Diplomats are exposed to slander, arrest, expulsion, physical attack and even assassination for no reason other than being the accredited representative of a country. We are also not unfamiliar with stories of punishment being meted out to the messenger for merely delivering the message.
The recent expulsion and counter-expulsion by the US and India of their diplomats may be linked in some way to their actions, but often the expulsion is a bolt from the blue. A classic case of expulsion was the ordering out of the Australian High Commissioner in tiny Nauru for claiming the expenditure incurred by the Australians in erecting a lamp outside the high commissioner's residence as aid to Nauru. Nauru prides itself on never receiving any foreign assistance, and the Australian action was seen as a national insult, even though it is dependent on Australia for its very existence.
The pattern of expulsion of diplomats around the globe reveals that it is often the weaker partner in a bilateral relationship that resorts to expulsion of diplomats to make a point. When a country feels powerless to change the opinion of a foreign country, it feels tempted to use its prerogative to expel diplomats. Such actions can only make matters worse in the bilateral relationship. Eventually, the bilateral relationship is repaired, but the sudden dislocation and adverse publicity affect the diplomats concerned and their families.
One consequence of such expulsions is that those declared persona non grata, even for technical reasons, are unable to get back to those countries. In the case of specialists, the expertise lost is regrettable to both countries.
In the case of Devyani Khobragade, the expulsion came as a solution rather than as a provocation. A quiet withdrawal of the officer in September last year would have been a better solution than the series of events that rocked bilateral relations. The reciprocal expulsion of the US diplomat, it turns out, was more than deserved, as he had not only conspired to evacuate Indian nationals to the US on a false pretext, but had made no secret of his hatred of India and Indians.
Gossip about the host country, its manners and its leaders is common in diplomatic cocktail circuits, but to put it on social media is to attract adverse comments, and worse, expulsion.
In our own diplomatic service, we have had several instances of quiet transfers and even expulsions in similar circumstances. Since these are not always publicised, statistics are not available. There have been the highly publicised reciprocal expulsions by India and Pakistan at …continued »