Congress (R) vs BJP (M)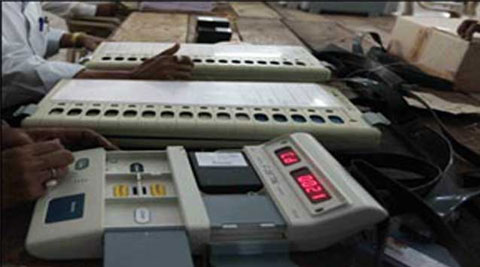 The discomfort stems not so much from frustrations over nominations as from the gap between the leader and sections of the old party.
Two parties at odds with their leaders. Two leaders with a larger gameplan.
First, it was about Murli Manohar Joshi. Then came L.K. Advani's turn. Both were made to acquiesce to the wisdom of the new leadership of the BJP. Jaswant Singh is the latest to join the club of famous leaders to feel slighted by the party.
The trouble over candidate selection within the Congress has not yet thrown up drama on that scale. But the Congress too is witnessing a tussle everywhere between Rahul Gandhi's nominees and the preferences of party veterans. The scale and shape of these intra-party tensions may differ, but the Congress and BJP have more in common than just an absence of established procedures for candidate selection — that, of course, is a critical aspect of decision-making for a party in the Indian context.
That lacuna exists in almost every party. The newest entrant, the Aam Aadmi Party, has not escaped this problem either. But the headline-grabbing problems within the BJP and Congress cannot be explained just by the lack of "democratic" procedures. Something deeper is happening in both parties.
Not too long ago, the Congress was led by its president, Sonia Gandhi. Only on the eve of the elections were de facto powers given to party vice president Rahul Gandhi. He could have become the president. Instead, it was decided that the current president should remain but power would shift to Rahul. Similarly, in early 2013, the BJP had nominated Narendra Modi as the party's campaign chief. Subsequently, he was nominated as the party's candidate for prime minister. Like Rahul, he is the de facto leader of the BJP.
There is, of course, a BJP president, but not many would credit him with decision-making powers. Thus, behind the disgruntlements in both parties, there is another similarity — the rise of a new power centre within either party. Moreover, in both cases, this shift has occurred rather close to the elections. So other leaders, as well as party cadres, are unsure of the expectations of the new leadership, and of the equations among various leaders and factions within the party.
But more than just uncertain equations with the new leaderships, the Congress and BJP are looking like parties at odds with their leaders. Ironically, neither can go into the elections without these leaders. Without Rahul, the Congress cannot hope to face the tide of anti-UPA sentiment. Without Modi, the BJP cannot think of rejuvenating the party. But the leaders seem to have larger gameplans. Both Rahul Gandhi and Narendra Modi, besides trying to win the elections for their parties, clearly intend to redefine the parties they lead, reorient the cadres to new patterns …continued »