Caste in the same mould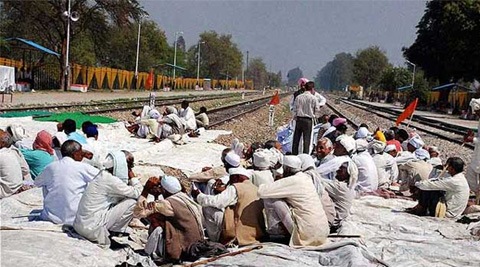 The answer to the unhappiness expressed by the community lies in faster development of UP's economy, not in reservations.
Wooing Jats with OBC status, Congress falls back on worn tactics in UP.
The recent decision by the UPA government to provide reservation in jobs and educational institutions for Jats in Uttar Pradesh and neighbouring states, under the Central list of OBCs, fulfils a longstanding demand. The decision holds particular significance for the ongoing, highly competitive, electoral campaign in UP. The Jats, a dominant community concentrated in western UP, have shaped politics in this region since the late colonial period.
The demand for reservation has been aggressively pursued since the late 1990s by the All-India Jat Mahasabha, an organisation active in Muzaffarnagar district since 1907. More immediately, by granting reservations, the Congress party hopes to gain the support of the Jats in the approaching national elections. This step, in keeping with many such earlier decisions, indicates that providing reservations is an opportunistic tool in the hands of parties in power.
The decision raises the question of what constitutes "backwardness" and how social groups are identified and granted this status. First used in 1870 by the colonial administration in Madras to identify social groups requiring welfare measures, the concept has had a contentious, increasingly politicised, history and suffered from ambiguities.
While the question of reservations for SCs and STs was resolved in the colonial period, how to identify backward classes/ castes is a post-Independence question mired in politics. Its frequent resurgence, including in the case of the Jats, suggests that it has not acquired clear meaning or definition by the implementation of the Mandal report.
It is questionable whether the Jats constitute a backward community in western UP. They are a surplus-producing, close-knit peasant community that prospered from commercial agriculture in the colonial period and the Green Revolution in the mid-1960s, as well as from diversifying into poultry and milch cattle. Jats occupy a strong position in the agrarian economy and politics of 17 districts, stretching from Baghpat to Agra, containing about 17 parliamentary and 36 assembly constituencies — notably, Muzaffarnagar, Meerut and Shamli.
They benefited from the agrarian movement under Charan Singh, parties/ organisations such as the Bahujan Kisan Dal and Bharatiya Lok Dal, the Bharatiya Kisan Union formed by Mahendra Singh Tikait and the Rashtriya Lok Dal (RLD) formed by Ajit Singh. Substantial numbers have found employment in the army. Neither do Jats suffer from the social discrimination associated with some OBCs.
The deep crisis in the agrarian economy of western UP since the 1980s, together with fragmentation of land, the decline of the once-booming sugar industry, the shifting of politics from agrarian to identity issues and the rise of backward caste and Dalit parties, have adversely affected Jats, creating despondency. However, they remain better placed, socially and politically, than many OBC groups in UP.
The answer to the …continued »