Inside track: Bhag, mummy, bhag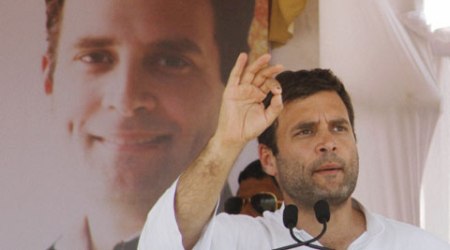 There are red faces in I&B Ministry that Modi's interview appeared on DD before crucial seventh phase of polling, whereas there was no interview with Rahul Gandhi on channel.
Bhag, mummy, bhag
Congress members complain that Rahul Gandhi is so distracted during his campaigning that he does not have even the inclination or time to connect with the party's parliamentary candidates, let alone workers. At Devgadh Baria in the Bhil tribal constituency of Dahod in Gujarat, Dr Prabha Taviad was prevented from sitting on the dais by the SPG while Rahul addressed a rally, even though she tried to explain that she was the Congress candidate on whose behalf he was speaking.
Immediately after the rally, Rahul shook a few hands and headed for the helicopter. Dr Taviad's son and several members of the audience urged her to run and meet Rahul. "Bhag, mummy, bhag," they all screamed helpfully in Gujarati. Taviad sprinted to catch up with Rahul so that she could thank him and exchange a few words, but the Congress vice-president had already pushed off for his next destination.
Snooze, you lose
There are red faces in the Information & Broadcasting Ministry that Narendra Modi's hour-long interview appeared on Doordarshan before the crucial seventh phase of polling on April 30, whereas there was no corresponding interview with Rahul Gandhi on the channel, which is much watched in rural India. Actually, DD had sent out a formal request to both Rahul and Modi for an interview. Nobody responded from Rahul's side whereas Modi not only replied immediately but made himself available within three days.
In fact, Modi was happy to give the channel even more time than it asked for. Which could be one defence for editing the interview. DD was understandably reluctant to telecast Modi's interaction without first telecasting a similar face-to-face with Rahul, who was still to respond. But the news of the pending interview was put out on Twitter. Soon the story went viral on Internet, with indignant queries raised as to why the interview was being "suppressed".
Prasar Bharati CEO Jawhar Sircar took the professional decision to air the programme in the light of the controversy. The infuriated Congress camp, which regards DD as its domain, has now belatedly granted time for a Rahul interview.
Cover story
The cover of the BJP manifesto, which was released belatedly, has some interesting pointers. For instance, the background of the cover is entirely saffron whereas earlier documents used to be coloured part saffron and part green, the colours of the BJP flag.
The placement of senior leaders on the cover page is also intriguing. Atal Bihari Vajpayee, L K Advani, Murli Manohar Joshi and Rajnath Singh have all been positioned in a vertical line on the left-hand side, while Modi, surrounded by pictures of Arun Jaitley, Sushma Swaraj and …continued »