Babasaheb and BJP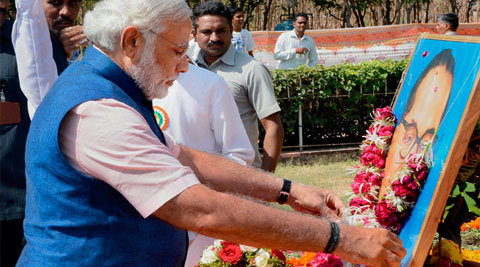 BJP's prime ministerial candidate Narendra Modi offering floral tributes to Babasaheb Ambedkar in Gujarat recently. (File Photo: PTI)
In order to manufacture an electoral majority, parties need to carefully build social coalitions. The Congress has traditionally avoided shaping a social coalition that would explicitly exclude any section of persons from its ambit. As such, the Congress strategy came to be known as a rainbow strategy. Even when it was forced to build a social coalition, the Congress was more content with a "coalition of extremes" rather than a cleavage-based coalition of underprivileged sections, either in caste/  community or class terms. In contrast, the 1990s witnessed social coalitions based on the principle of social cleavage — mainly in terms of caste.
In the post-1989 period, Mulayam Singh Yadav has been identified with the Muslim-Yadav combination, while Lalu Prasad's success owed much to the support he mustered among the Dalits of Bihar in addition to the OBCs, particularly the Yadavs, and Muslims of the state. Even the abortive and ill-fated SP-BSP coalition was predicated on the assumption that both these social groups had a common battle to fight.
The BJP took recourse to building a social coalition based on community cleavages by alleging a fundamental difference between the interests of the majority Hindu and the minority Muslim communities. This definition of social division has been central to the BJP's politics since the late 1980s. In its calculations, this cleavage has the potential of mobilising the majority Hindu community around issues of religious identity and a perceived threat from the minority community. The main objective of the project of political Hindutva has thus been to construct a Hindu political community. In the mid-1990s, this project partially succeeded when the BJP started attracting votes from sections of OBC communities and, to some extent, from economically less well-off sections. However, it was very clear that this social bloc did not include Dalits. After getting the support of 15 per cent of Dalits in 1999, the BJP slipped to 12 per cent in both the 2004 and 2009 elections (National Election Study, 2004 and 2009, Lokniti-CSDS). While this was electorally debilitating, it was also awkward because in the BJP's understanding, Dalits belong in the Hindu category.
Over the course of the current elections, the BJP has made serious efforts to improve its performance among Dalit voters. It has allied with state-level Dalit parties wherever possible (for example, with the Republican Party of India (Athavale) in Maharashtra and Ram Vilas Paswan's Lok Janshakti Party in Bihar). But its efforts have been much more focused in UP. It is not difficult to understand this emphasis on UP — if the BJP can breach the BSP's social base among UP's Dalits, it would overcome a very critical stumbling block. The state's large and politically active Dalit population makes …continued »