After Modi, the deluge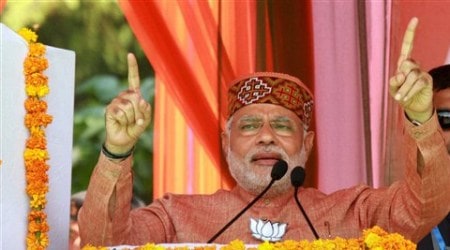 Modi has no regard for any other kind of court, least of all a constitutionally appointed judiciary.
The refrain that democratic institutions will survive him ignores how weak they are
In a competitive bid to bare each other's dirty linen this election season, political parties have raised the ghosts of 1984 and 2002. Each party claims that the other is guilty but as for itself, it has been given, in that peculiarly Indian phrase, a "clean chit". Narendra Modi tells us he will be found innocent in the "people's court" and was "waiting to hear their verdict". Clearly Modi has no regard for any other kind of court, least of all a constitutionally appointed judiciary. He is not alone in this — every major political party seems to believe that winning elections is an alternative to judicial accountability. The one point where Modi is right, of course, is when he asks, "What is the system of pardoning people through apology?"
The Congress has tried to apologise its way out of 1984, as if that's all it took to repair devastated lives. In Bastar, the Congress candidate, Deepak Karma, admitted that Salwa Judum was a mistake, even as he was given a ticket precisely because he was Mahendra Karma's son, a man who pillaged his way through his own people. The word that is curiously missing in all this is "justice". When liberal commentators tell us that we need not fear for India's democratic institutions under Modi, one wonders which institutions they are referring to. In truth, almost every major "pillar" of Indian democracy — political parties, the media, the judiciary, even the electoral system — has been rendered so fragile over the years that it will not need too drastic a push to render them impotent. Already people have begun to censor themselves, to "balance" their previous criticism with high praise and to urge forgiveness for 2002 as if it was theirs to forgive. Almost all the major political parties are headed by individuals whose personalities outweigh any institutional process. For long, the BJP prided itself on its collective decision-making, but that is clearly a thing of the past. Modi appears larger than life, especially to himself, with his narcissistic illeism or references to himself in the third person. It is hardly surprising that his immediate model is Indira Gandhi. Not only do we have the Emergency-era promise that he will make the trains run on time, but like her, one of the first things he has done is destroy his own party. Just as the Congress has never recovered from Indira, it is hard to imagine what a post-Modi BJP might look like.
The media is a player in the electoral process, rather than a watchdog of democracy. It is hardly an impartial mirror to the elections. The "news" as it comes to us …continued »