Flip side: Acronyms and acrimony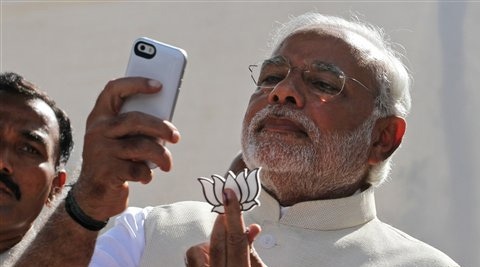 There is a lot of money being pumped into these elections, but also an equal amount of acrimony.
There is a lot of money being pumped into these elections, but also an equal amount of acrimony. We see more swollen heads (mainly of AAP supporters targeted by rivals), bruised egos, chest expanders and the one symbol that's most evident — foot in mouth. The result is a glossary of words, acronyms and phrases that have  defined Elections 2014.
Selfie: The ultimate in self-portraiture. Instead of using your finger to press a camera button, you use the phone camera to click your finger. In this case, an ink-stained finger. 'I vote, therefore I am' was the message, but by also flashing the lotus badge and informing the media about his voting preference, Narendra Modi got fingered by the cops for violating the poll code, or FIRed, to be more accurate. To use a sporting phrase, it was a selfie-goal.
Conscious coupling: Hollywood actress Gwyneth Paltrow created a new phrase, conscious uncoupling, referring to her split from her husband. We now have conscious coupling courtesy Congress leader Digvijaya Singh, who had no hesitation admitting to congress with a journalist after photos were leaked coupling the two. Conscious of the fallout in election season, they announced that they would soon be officially coupled.
DNA: Abu Azmi, may his tribe decrease, is the spoke in the bicycle wheel, the symbol of the party he represents, thanks to the trash that accumulated whenever he spoke. Now comes his remark about conducting a DNA test of Muslim voters who don't vote for his party to check if they are from the RSS. The suggestion that ideology is genetically inherited can only originate from someone who urgently requires an IQ test — an Idiocy Quotient test.
Model code: It's becoming all about models, whether violated or not. First, it was the Gujarat model, which Modi has been projecting (in 3D), showing roads paved with gold and loochis in the sky with diamonds. Then we had the Vadra model, or how to get rich without trying too hard. There's also the toffee model, as revealed by Rahul Gandhi — also to do with landed gentry, in this case, Adani and his access to dirt cheap land, which he claims was just dirt and not cheap. So there we have it, the 'model' code of conduct.
The pH factor: Refers to Priyanka Heat, or the kind of attention Priyanka Gandhi is getting from voters as well as the media as she takes on Modi and his methods, and invites comparisons with her sibling. It's no contest there and even Modi was forced to back off, saying she was doing what any sister/daughter would. She quickly hit back, condemning such filial familiarity, which really makes this the mother of all battles.
Skullcap: The defining symbol of this election. …continued »