A thin manifesto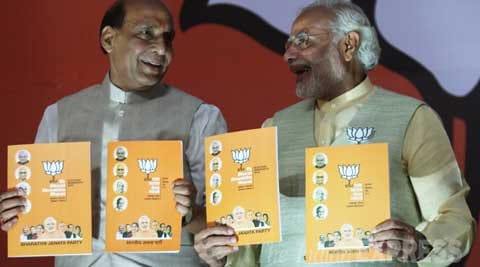 If the BJP election manifesto does not say much about what the party would do if it was in a position to govern India, its silences are sometimes very telling. Its treatment of the corruption issue is a case in point.
Politics, not policy, seems to be the burden of the BJP's song.
The BJP election manifesto has to be taken seriously, not only because it is the product of six months of reflection (as early as October 2013, the party had launched a website inviting suggestions from citizens for drafting it), but also because of what it does not say. If the party could wait for the first day of polling to make it public, an unprecedented move suggesting that voters did not need to know the programme of the main contender for power to make up their mind, it is not only because its leaders did not want to tie their hands in case of victory, but also because they did not have concrete policies to propose — or preferred to remain vague on that front in order to emphasise their political agenda.
The paradox is difficult to ignore, even though thinktanks (which are supposed to be policy-oriented) have not noticed it. The BJP, like most of its supporters, generally considers that India has been badly affected by the "decision and policy paralysis" of the UPA, as the party manifesto says. In contrast, it claims, the "hallmarks" of its "governance model" would be, among other things, "policy driven".
Indeed, "policy", usually with a capital "P", is one of the words most frequently used by the authors of this "programme": "BJP will initiate the New Health Policy", the BJP will "re-visit the policy framework for investments both foreign and domestic to make them more conducive", "BJP will adopt a 'National Land Use Policy'", the BJP will "Come out with a responsible and comprehensive 'National Energy Policy'", "We will set in place national policies on critical natural resources like coal, minerals, spectrum etc — spelling out in black and white how much should be utilised at what time and space".
The BJP is obviously eager to implement clear-cut policies, and that's what India needs, for sure. But shouldn't citizens know, "in black and white", what these policies will be before casting their vote? That's largely what democracy is about, after all. And that's where the BJP manifesto is not meeting the expectations of those who make the effort to read its 52 pages. Most of it is made up of demagogic incantations. For instance, the BJP commits itself to "a comprehensive strategy for bringing the Indian police at par with international standards", which is definitely a good intention, but how …continued »