A story of Varun and Rahul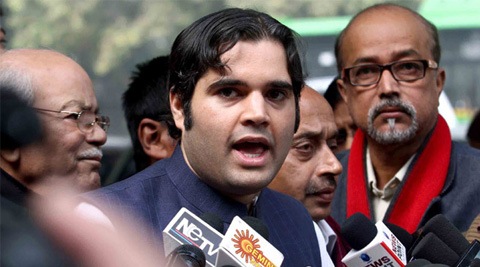 Varun also received a rebuke from his mother. Is there a hint here that he has no personal notion of the acute bitterness of the division in the Gandhi family?
Some praise and a lot of controversy.
What a sad commentary it is on both dynastic politics and political discourse. In the midst of the foulest election campaign this country has witnessed, a young BJP MP, Varun Gandhi, said a few good words about his estranged cousin, Congress vice president Rahul Gandhi, about the work the latter has done in his constituency, Amethi, and all hell broke loose within Varun's own party. Its leaders and cadre were probably enraged even more than they otherwise might have been because Rahul lost no time to proclaim that what "Varun has said is correct".
Consequently, Varun, who has changed his constituency from Pilibhit to Sultanpur, only 34 miles from Amethi, had to issue a hurried statement to the effect that he had endorsed neither the Congress nor his cousin's candidature. All he had done was reply to a question on the basis of what he had heard about the "self-help programme" in Amethi but hadn't seen. However, this was of no help to him. On the contrary, in the eyes of his critics, this accentuated his "offence".
To comprehend this state of affairs, it would be better to start the story from the beginning. Varun is the son of Sanjay and Maneka Gandhi. Sanjay, as is well known, was Indira Gandhi's younger son and first preference as her political heir and successor. He wielded great power, not only before and during the Emergency, but also, indeed more so, after her spectacular return to power in January 1980. Unfortunately, he died on June 23 of the same year in the crash of a plane he was flying himself.
Varun was then just three months old. He has, therefore, no personal knowledge of the virulence of the struggle between his mother, who thought that she was the rightful inheritor of Sanjay's position, and his formidable grandmother, who saw to it that her elder and apolitical son, Rajiv Gandhi, was drafted into politics to take Sanjay's place. To say that since then relations between Maneka Gandhi and her sister-in-law, Congress president Sonia Gandhi, have been very strained would be the understatement of the century.
Under the circumstances, it was no surprise that Maneka Gandhi became a member of the BJP-led NDA government. It was only in 2004, when the Congress returned to power under Sonia Gandhi's leadership, that Maneka Gandhi joined the BJP, together with her son. The BJP leadership was happy to welcome him because it was useful to have a scion of the Nehru-Gandhi clan in its ranks. This should also explain why he is the youngest general secretary …continued »