A command economy of opinion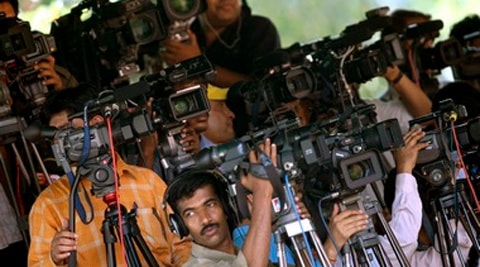 The major private media outlets are owned by large business houses that can navigate any set of rules with their ability to buy talent, technology and political favours. ( Source: Reuters)
The demand for an independent media in India was initially seen as a way to curtail state control over the airwaves: since state control was taken as fait accompli, the demand for autonomy was a way to limit the impact of the ruling party's grip over broadcast media.
After 1995, when a Supreme Court ruling deprived Prasar Bharati of its monopoly, which satellite channels had already begun to undermine, the government suddenly became one player among many. From declaring the media was irrelevant, irresponsible, or both, as Indira Gandhi used to do, political leaders became vulnerable to negative media coverage.
Today, more than government media, it is the "autonomous" or commercial media that presents a threat to public interest. The commercial media exerts de facto monopoly over the airwaves, while Prasar Bharati is almost a voice in the wilderness  —  except, ironically, when it interviews Narendra Modi.
Indeed, Prasar Bharati is considered so unimportant that the television ratings agency, TAM, has ignored it, until forced by a recent court order to include it. The election media coverage study released recently by CMS Media Lab does not even mention Prasar Bharati in its study, and few seem to have noticed Prasar Bharati's viewership is nowhere near its pre-1995 levels. Meanwhile, advertisers have focused on the more affluent urban audiences who watch cable and satellite, not the free-to-air government channels, which are watched mainly by those who cannot afford private channels.
Given that they inform, and even embody, the public interest, all media houses and sectors should be held to the same, high standards of accountability. The very criteria used to evaluate Prasar Bharti's professional autonomy should therefore apply to privately owned media.
In fact, since 1995, debates about the Indian media have been about the growing power of private media, and the government-business nexus central to it. The "paid news" phenomenon has taken media manipulation to extraordinary levels, since viewers today have no way of knowing which news stories are genuine, and which ones are disguised advertisements. Political parties spend huge amounts on their election campaigns, their money is from sources they refuse to declare, and the media is the biggest beneficiary.
The expansion of the economy has thus completely changed the question of media regulation. Previously, businesses had to fear the government, and media regulation served mainly to protect government power. Today, the balance has shifted.
The major private media outlets are owned by large business houses that can navigate any set of rules with their ability to buy talent, technology and political favours. Large volumes of persuasive media coverage can be generated to convey …continued »